The Best Exterior Painting In Phoenix
If you're interested in exterior painting Phoenix, you're in the right place! Check out full breakdown below!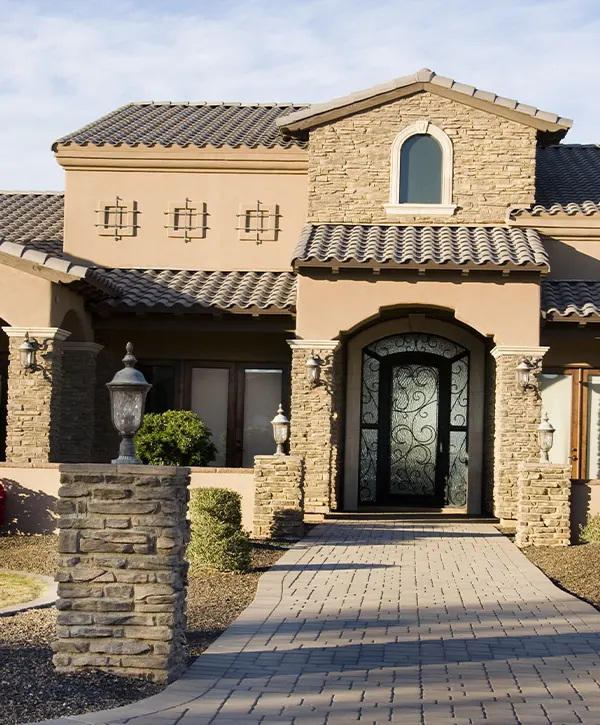 If you're hoping to find a company that provides an exceptional exterior painting service and makes your house feel like home, Orange Door Custom Coatings is the business for you. With over 100 years of combined experience, we always provide homeowners with top-quality services–something made easier by our willingness to break new ground in the industry.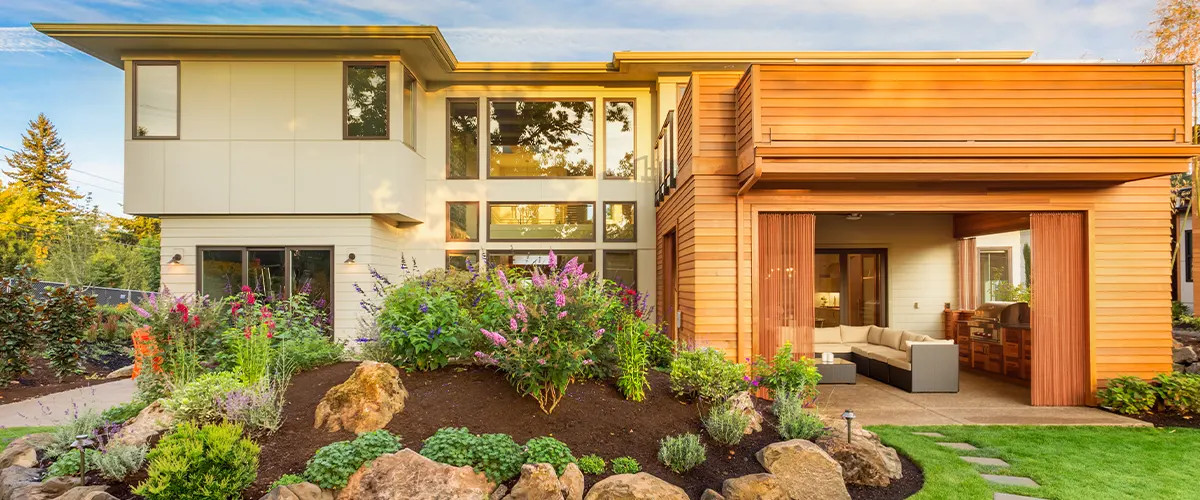 Revamp The Exterior Look Of Your Home With Extra Benefits
We not only believe that everyone deserves to live in a home they love, but we also understand that your time is important. Why spend hours painting projects when you can easily hire us? And if for any reason you're not content with the finished product, just let us know and we'll make it right. With Orange Door Custom Coatings, you'll also get:
Get Yourself In Business With Local Professionals
In Phoenix, exterior painting companies that you can trust are few and far between. But we're one of the certified professionals in your area with over 800 projects completed. Our experience helps us offer you the best possible end product.
Besides superior craftsmanship, you'll also enjoy a simple and quick process where you and your preferences are at the front and center of our work. We'll listen to what you want and advise accordingly so we can get your walls looking like new.
Phoenix Homeowners Love The Look Of Their Home!
We hired Dustin to come out and epoxy our floors. The workmanship was amazing and the customer service is wonderful.
Dustin and Justin were astounding to work with.
If you need garage floors with epoxy or your house painted this is your company!
Dustin and his team went above and beyond for me. I needed my concrete patio refinished on a tight deadline and they got the job done for a fair price.
It looks great now and the team was friendly and professional.
Would highly recommended – all around great experience with this company.
Types Of Painting Finishes
There are many benefits to a new coat of paint, one being the ability to change the appearance of your walls completely depending on the type of finish you choose. Let's explore some popular finishes before our on-site consultation, during which we'll show you samples and explain how every finish acts differently.
While flat paint finishes were at one time popular, they are now not as much in demand. Flat paint is matte and porous, so it more easily fades and mildew grows on it. However, although most customers want shinier and more durable paint, there are some advantages to using flat paint. One such advantage is that because flat paint isn't shiny, imperfections in older homes can be hidden well with it. That being said though, a completely flat finish should only be used for exterior walls – areas that aren't touched frequently like doors or windows shouldn't have this type of finish.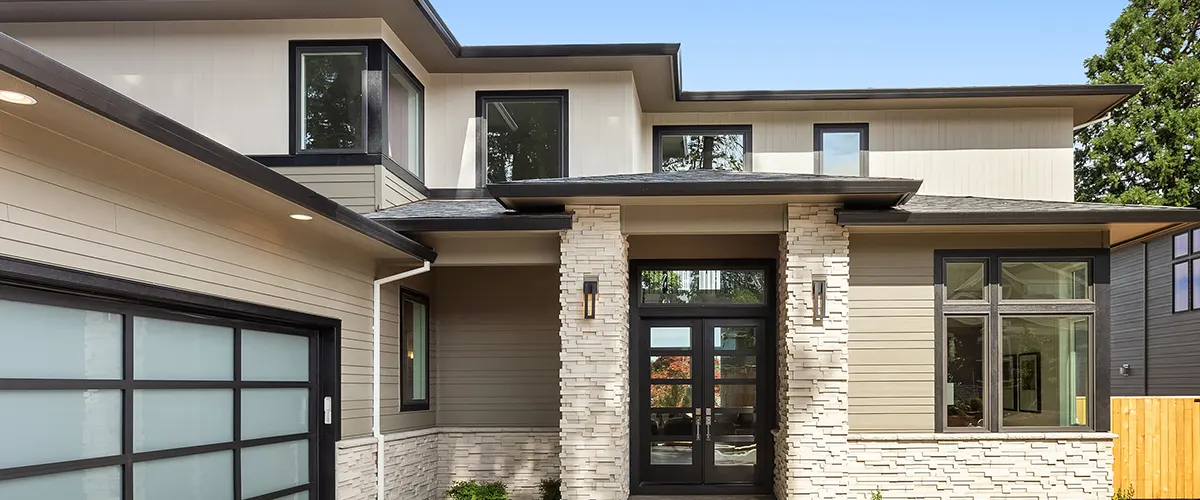 Eggshell paint is an exterior finish that's becoming more available. Its flat but glossy texture looks great on any siding type and it can endure being powerwashed better than a flat paint. If you're trying to cover up imperfections or cracks, especially on older surfaces like wood or stucco, eggshell paint is ideal because the brushstrokes, roller edges, and spray marks will be invisible after application. It's also popular for its ability to protect your home from seasonal weather changes.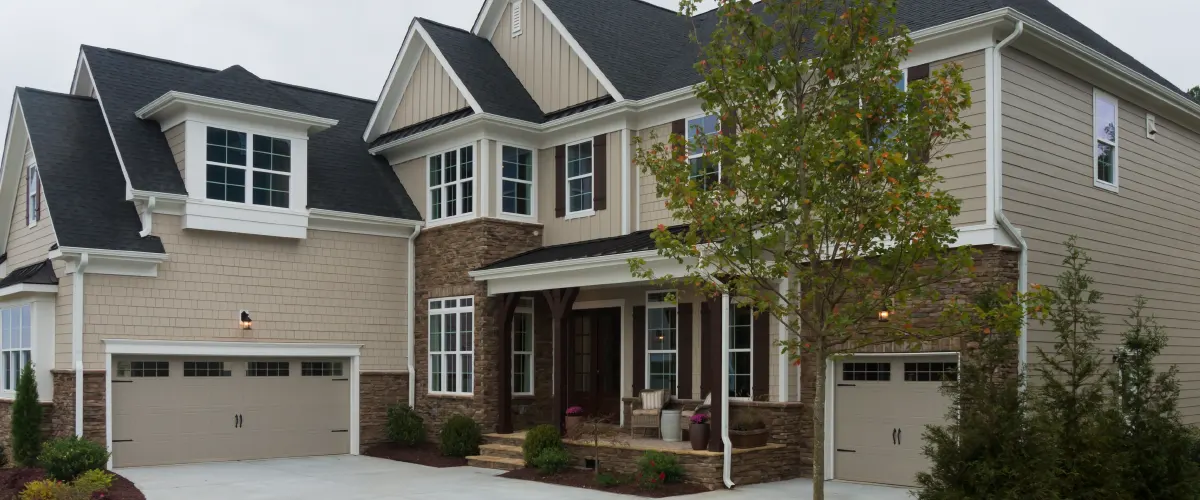 A high-gloss sheen is the perfect paint option if you want your home to look like it was painted by a professional. This type of paint is very durable and rich in color. Even though you may be tempted to use this finish for your entire house, it's not always the best idea.
AVOID using high-gloss paint on your entire house, as it will give the appearance of "plastic" and emphasize any surface imperfections. Stick to this type of finish for isolated instances like outlines, doors, and other such details. To complement the high-gloss areas, professional painters often use semi-gloss or satin paint on exterior walls and siding.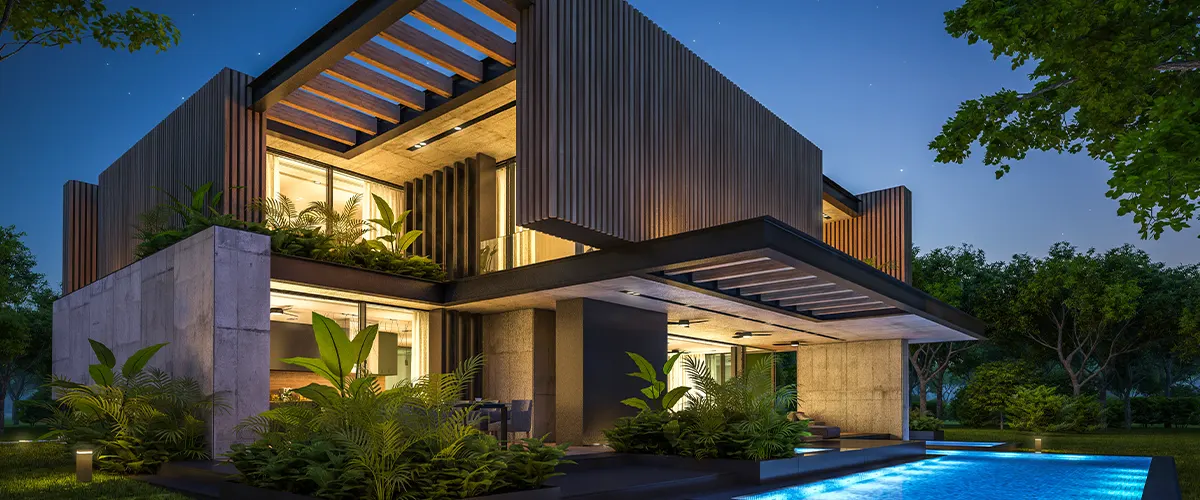 If you would prefer a shinier exterior for your home and don't mind repainting more regularly, semi-gloss paint is ideal. The glossy finish it provides means that the paint will last longer and be easier to clean than if you were to use satin paint. In addition, this type of paint can withstand harsh weather conditions and moisture better.
If you're looking to create elegant beauty in your home through trim details, semi-gloss paint is ideal. But if there are cracks or other surface blemishes that need to be hidden , this finish won't work as well. A few places where semi-gloss paint does the job best include painting garage doors, front doors, exterior trim, gutters and shutters – as well as metal lamp posts and window sills.
Make Your Exterior Walls Look Like New
The Best Exterior Painting Process
We value your time and want to make the process of working on your home as stress-free as possible. From start to finish, you'll be kept in the loop so that you can have complete control over every element.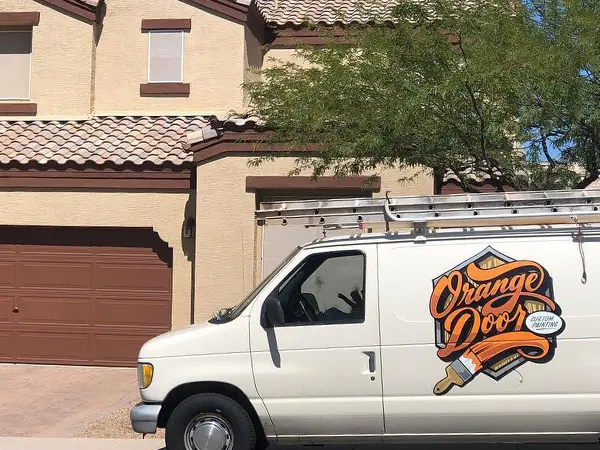 Request your free quote and let's talk!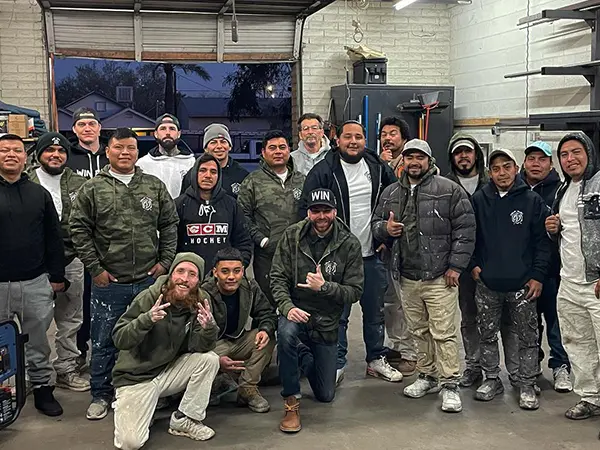 We start your project as soon as you're ready.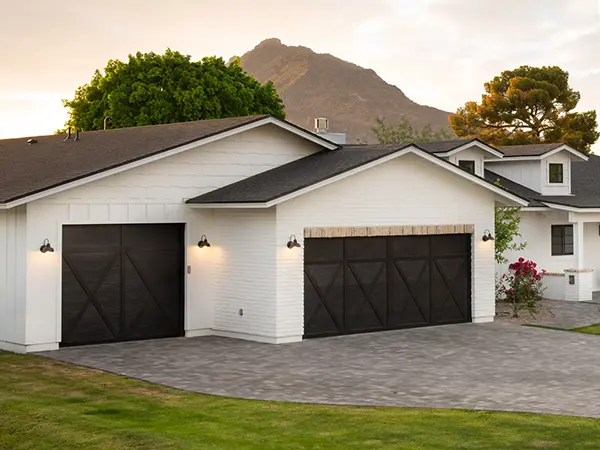 Enjoy your new refreshed space!
Frequently Asked Questions
Just as you wouldn't start painting a picture without planning or the proper supplies, we follow suit with your home. We begin by pressure-washing the exterior of your house and securing windows, lights, and floors. If there is any stucco or siding that needs repair, we fix it up before touching caulking and sealant (if necessary) then apply primer (again, only if needed). After the painting job is done, we clean everything up and do a final walkthrough with you.
The exterior painting of a 3000 sq. ft home in Arizona, depending on the color you choose and other specific details about your home, will range from $8,000 to over $13,000 dollars. We'll help you make the best decision for your home and give you an accurate quote for our exterior painting services.
The average 3,000-square-foot exterior can be painted within 4-5 days depending on prep work, necessary repairs, and color placement.
Get A Superior End-Product Right From Your Local Pros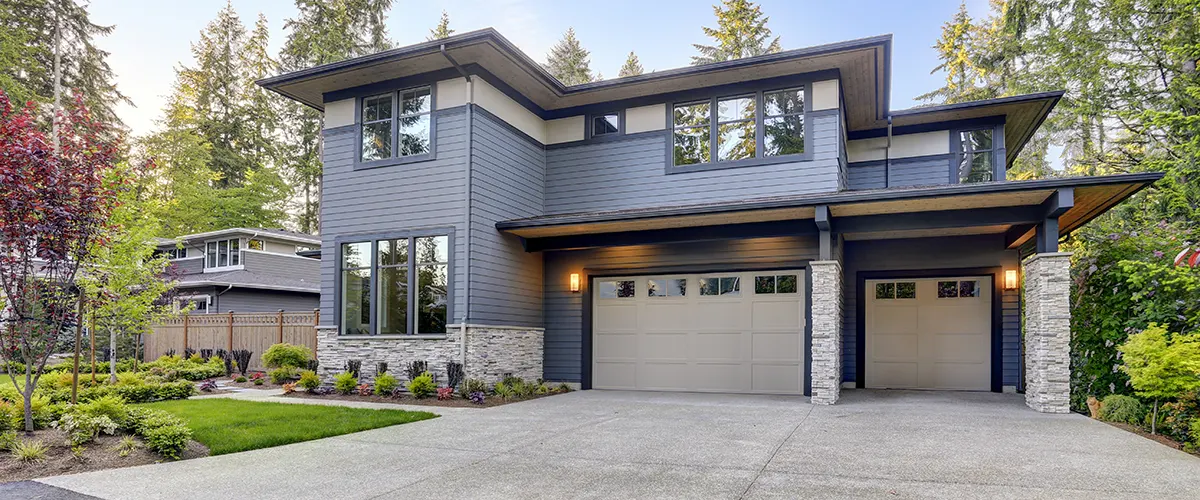 At Orange Doors Custom Coatings, we understand that your exterior paint job in Phoenix is a big project. That's why we only work with the best professionals to get the job done right. We focus on a simple and quick process to get started, and our final goal is for you to be happy with your new space. Satisfied customers are what drives us- it's our dedicated customer service ensuring you're fully satisfied with their new homes
With us, you're getting:
A Brand New Home Exterior Is Closer Than You Think!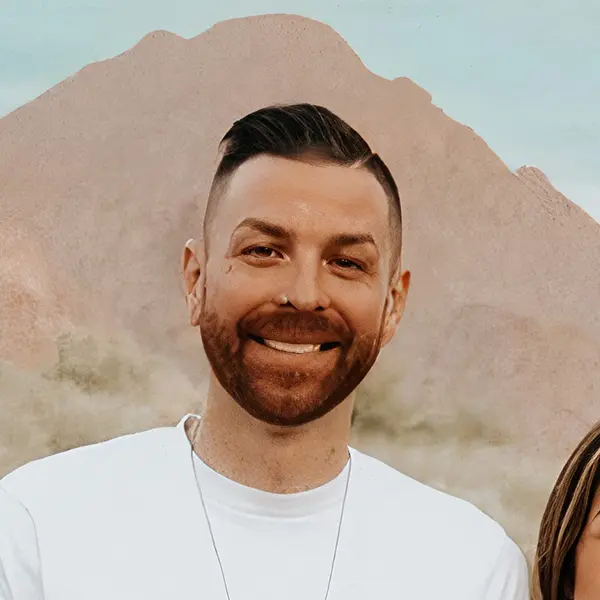 If you're ready to get started on your project, we're here for you!
Request a free quote and let's discuss your upcoming exterior painting project! Or talk directly with me at (602) 625-4617 and see if we're the right fit!