The Best Epoxy Garage Flooring In Phoenix
Looking to upgrade your garage flooring?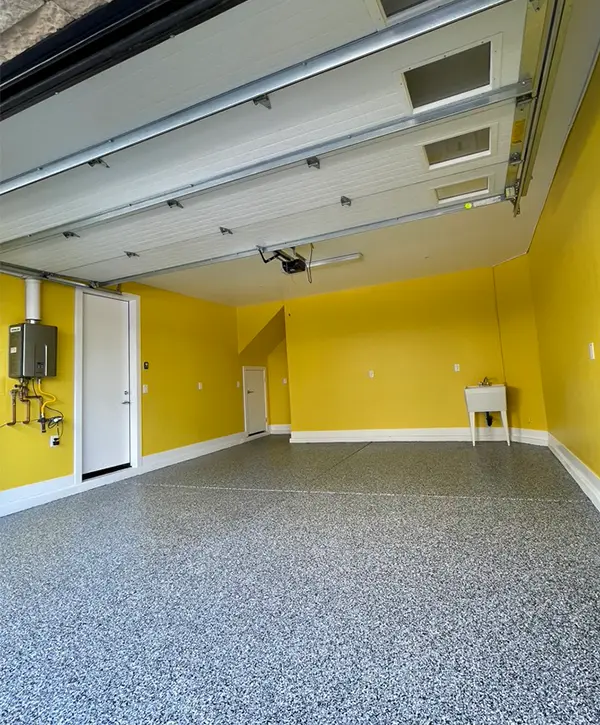 Epoxy flooring is an incredibly suitable for any environment—residential, commercial, or industrial—as it offers the chance to customize your finish with any design or color suits you best!
At Orange Door Custom Coatings, we are devoted to offering state-of-the-art epoxy garage floors with incomparable style and quality. You'll have a highly experienced team that guarantees a spectacular installation that'll last for many years and impress everyone who steps in your garage.
Our pledge to you is that our craftsmanship meets the highest of standards, and that we'll strive for your satisfaction above all else!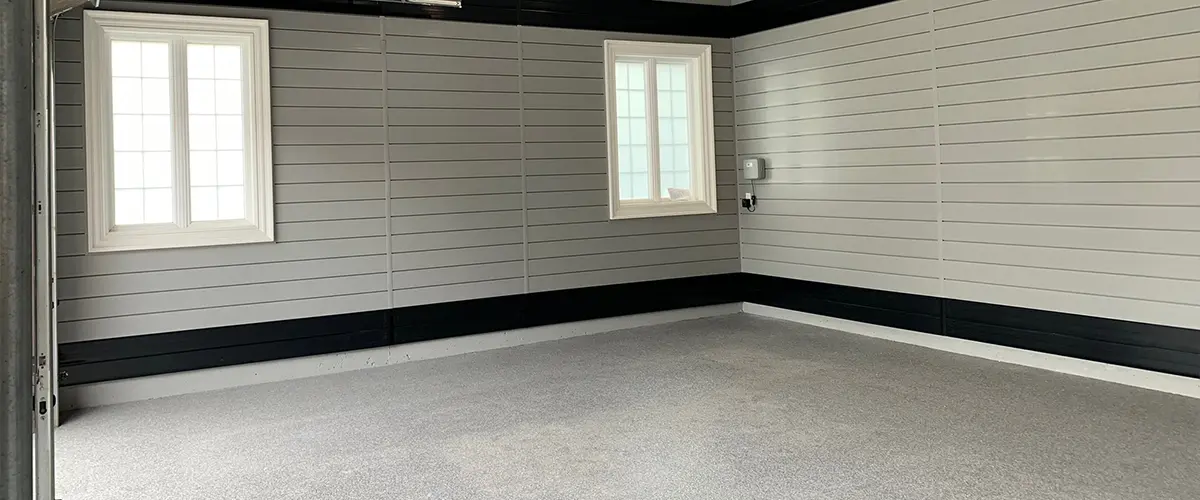 Epoxy Garage Flooring With Extra Perks
Our commitment to you is straightforward and unmatched: we pledge to exceed your expectations in every way. When the construction of your epoxy flooring is completed, you'll be blown away by its top-notch quality! After all, it will certainly meet and surpass all of your requirements.
With Orange Door Custom Coatings, you'll also get:
Life-Long Partnership With A Flooring Expert
If you're searching for an experienced and dependable epoxy flooring provider in Phoenix, you've come to the right place! 
We are certified professionals with a history of over 100 completed epoxy flooring jobs, so we can guarantee top-notch results. We've been doing epoxy installation for many years now, and we've come to fully understand what makes a great installation that'll last a lifetime without showing wear and tear.
You can trust that we will consistently go above and beyond to ensure your expectations are met. You'll get a tailored approach that guarantees the highest possible level of satisfaction! Our craftsmanship is unrivaled in its quality, and our customer support ensures a life-long partnership with us!
Phoenix Homeowners Love Their New Epoxy Floors!
We've installed epoxy flooring in many garages, and we can tell everyone wants something different. We'll customize everything according to your needs, but the superior customer support will always stay the same. Here's what homeowners say about working with us.
We hired Dustin to come out and epoxy our floors. The workmanship was amazing and the customer service is wonderful.
Dustin and Justin were astounding to work with.
If you need garage floors with epoxy or your house painted this is your company!
Dustin and his team went above and beyond for me. I needed my concrete patio refinished on a tight deadline and they got the job done for a fair price.
It looks great now and the team was friendly and professional.
Would highly recommended – all around great experience with this company.
Types Of Epoxy Garage Flooring
Epoxy floors provide a unique benefit by adding a personalized touch to your home or workspace. Depending on the finish type, the flooring can be dramatically changed from an industrial-style steel look to a luxurious marble shine!
Before we meet, let's look at the most sought-after finishes and how they will impact the way your floor looks. During our discussion, I'll show you samples that demonstrate why these particular finishes may be just what you are looking for!
With its combination of natural elements such as marble, mother of pearl, glass, and granite embedded in an epoxy base, terrazzo flooring is ideal for any residential or commercial building looking to add sophistication and comfort. 
Once polished to a high-gloss finish – your space will take on a completely new look that can easily withstand heavy foot traffic! Transform your home or business today with luxurious epoxy terrazzo flooring.
Epoxy terrazzo is a superb choice for large areas, offering breathtaking beauty, exceptional longevity (up to 40 years!), and low-maintenance requirements. It's the perfect solution for high-traffic spaces that require an elegant yet strong finish!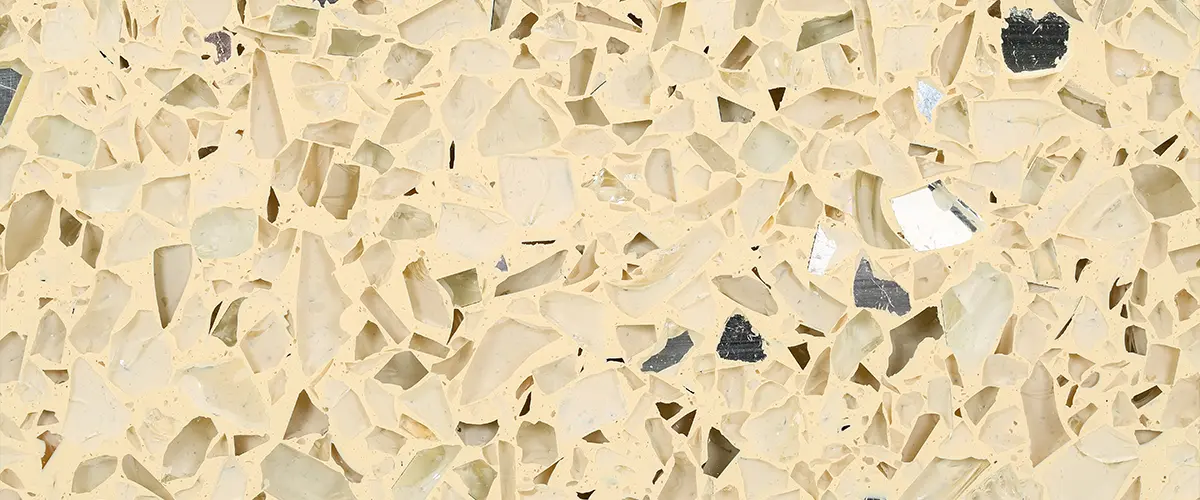 Transform your commercial space with epoxy flake coating! 
This exquisite floor treatment is created by sprinkling colorful flakes on an attractive base coat that's then covered with a resilient, transparent sealer. Its simplicity to care for and resistance to wear caused by frequent foot traffic or harsh chemicals make this choice perfect for garages!
This type of coating provides a non-slip surface, and the flakes can be customized to suit any aesthetic requirements. It's an ideal option for bustling commercial spaces, as messes and spills are quick and effortless to clean up!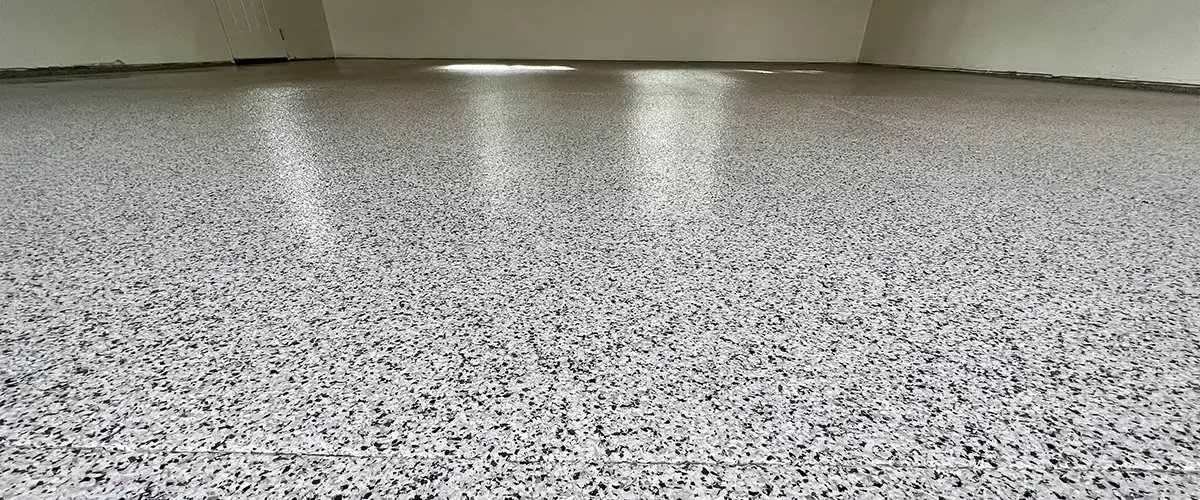 Transform your industrial garage with epoxy floor coatings! Customize it to suit any color of choice and desired level of shine – be it matte, satin, or glossy. 
For areas that will experience light to medium activity levels, epoxy is perfect for a polished look while being durable enough to protect against wear and tear. Invest in quality epoxy coating today and enjoy its lasting beauty tomorrow!
With the vast array of epoxy coatings available today, it is always a wise decision to speak with an expert in flooring. This way, you can be sure that the coating chosen suits your needs perfectly and provides optimum performance for whatever environment you intend to use it in.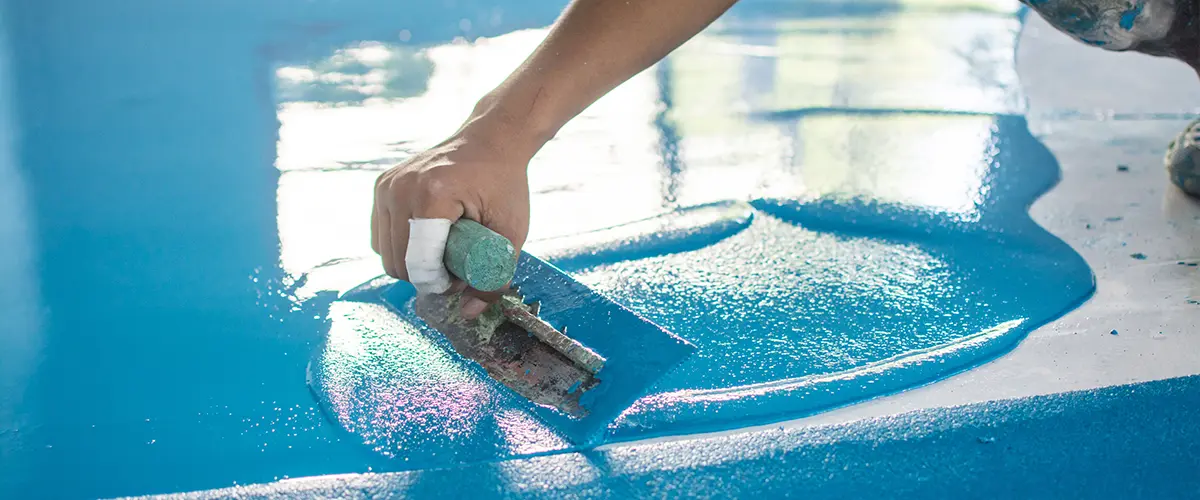 Installing a floor is no simple task, especially if you're trying to achieve an even surface. Uneven floors are not only unsightly but also create tripping hazards and make it hard to place furniture or equipment properly. Thankfully, Self-Leveling (SL) epoxy flooring has arrived! 
This system makes installing perfect surfaces with smooth finishes faster than ever before – so you can say goodbye to those frustrating uneven floors!
If you're looking for an attractive and functional flooring solution, self-leveling epoxy (SL) flooring may be worth considering. When applied in liquid form, SL epoxy sets quickly into a smooth finish with no seams. In addition, the resin-rich formulation of SL epoxy provides a strong finish that can withstand heavy use.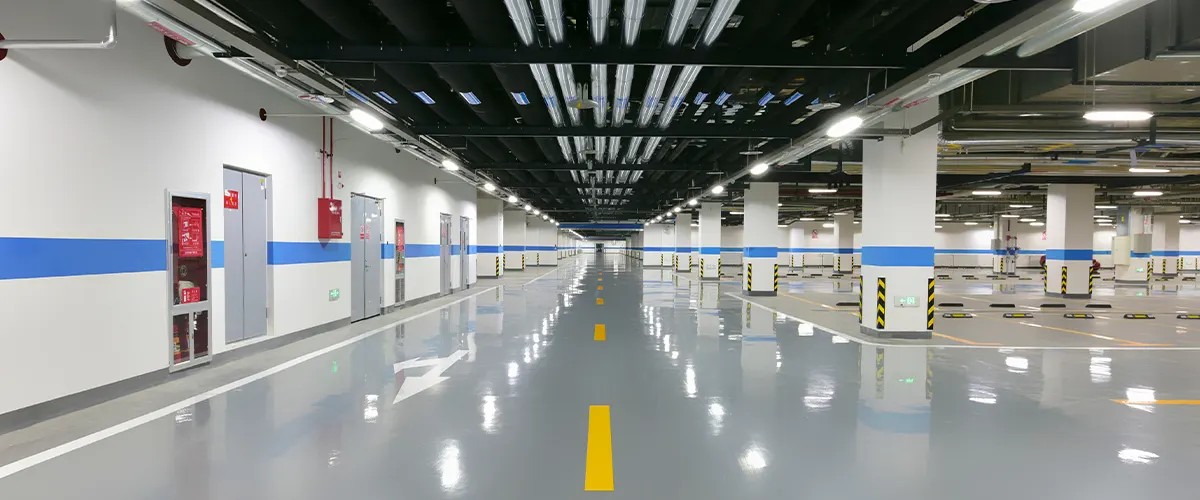 If you are looking for a flooring solution that is both durable and dependable, then epoxy screeds should be your go-to choice. 
This heavy-duty floor system will protect the underlying surface and create an optimal platform for installing other kinds of resin floors, such as nonslip or self-leveling coatings. Make sure to arm your space against any potential wear with an epoxy screed!
While they are slightly thicker than traditional flooring at 4-6mm, trowel application and power floating create a smooth final product that is worth the investment. You'll have a level, great-looking floor that will last for years.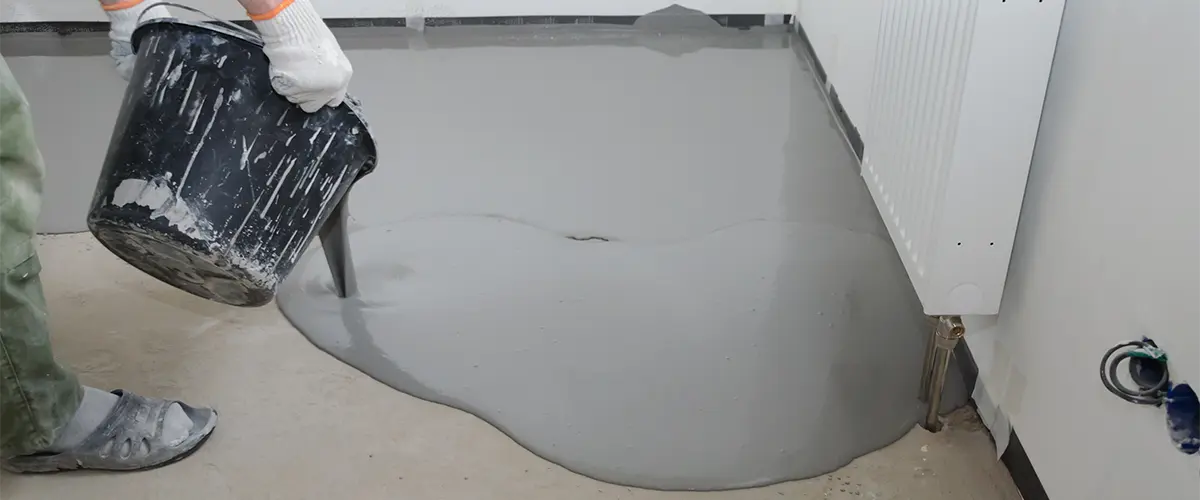 Make Your Epoxy Floor Look Like New
Our craftsmanship is proof of our dedication and passion, and our portfolio will showcase both. Here's what our epoxy garage flooring projects turned out like!
The Best Epoxy Garage Flooring Installation Process In Phoenix
We understand how anxious home improvement projects can be, so we've designed the starting process to be quick and easy. You'll also receive constant updates throughout the project, giving you full control of what's happening.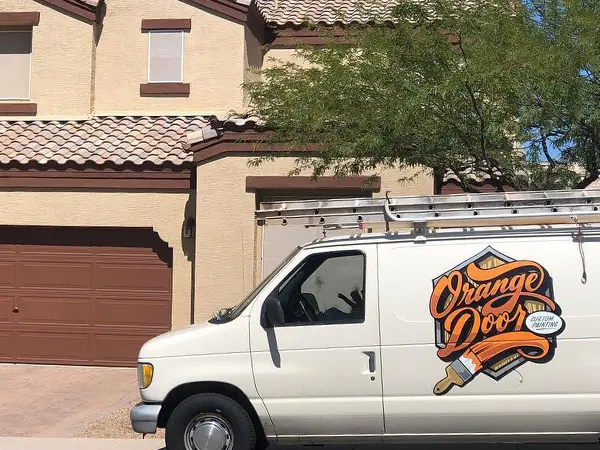 Request your free quote and let's talk!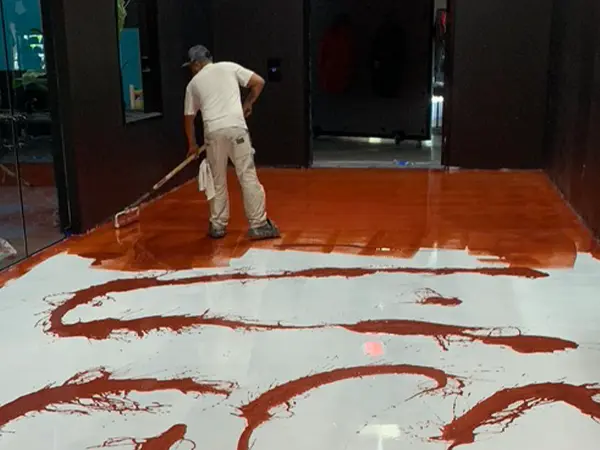 We start your project as soon as you're ready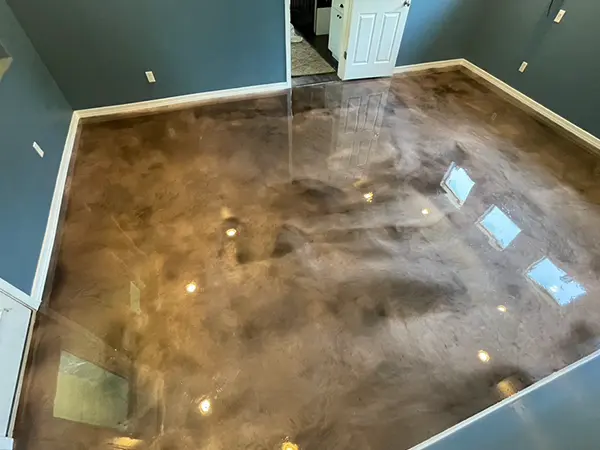 Enjoy the new epoxy floors in your garage!
Frequently Asked Questions
We start by diamond-grinding and cleaning the area, then dry it before applying a primer coat as well as a base color for extra pizzazz. You can even take customization up to another level if you opt for metallic pigments, flake/chip broadcasts, or inlay graphics!
To guarantee a professional finish for your floor, we use a double polyaspartic coating that seals in the color. As soon as we're done with the job, we'll take you on an exclusive tour so you will be confident of its magnificence!
If you're looking for epoxy flooring in Phoenix, whether it's indoor or outdoor, the cost will be dependent on several aspects. Generally speaking, 500-square-foot set ups may range from $2,500 to above $3,500+, depending on which selections work best for your needs.
With epoxy flooring, you can have it installed within just 24 hours – and for those who want results in a flash, the top-tier options guarantee that your property will be ready to use again in no time!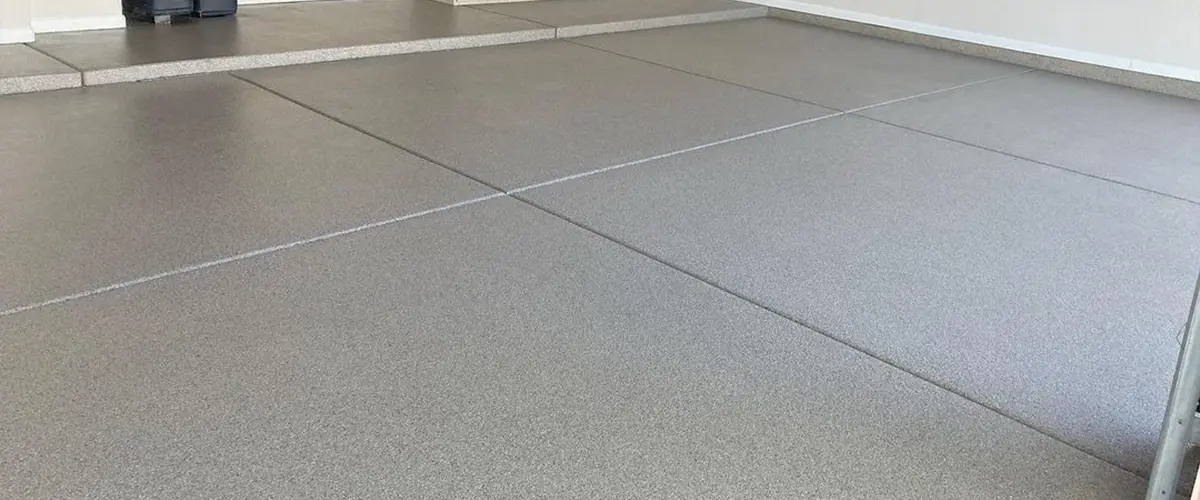 Get A Superior End-Product Right From Your Local Pros
Allow Orange Doors Custom Coatings to revitalize your Phoenix garage with our complete epoxy flooring service! Our specialists will make the process effortless and ensure you are 100% delighted with the outcome.
We understand how important it is for customers to have a pleasant interior and a smooth remodel, so we prioritize your comfort and well-being during the project.
With us, you're getting:
Your Epoxy Floors Are Closer Than You Think!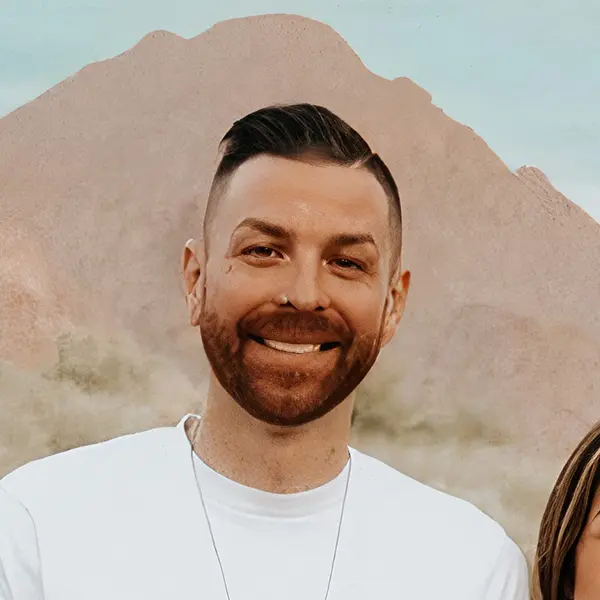 If you're ready to get started on your project, we're here for you! Request a free quote and let's discuss your upcoming epoxy garage flooring project! Or talk directly with me at (602) 625-4617 and see if we're the right fit!