Best Epoxy Flooring Companies in Phoenix
If you're interested in epoxy flooring companies in Phoenix, AZ, you're in the right place! Check out full breakdown below!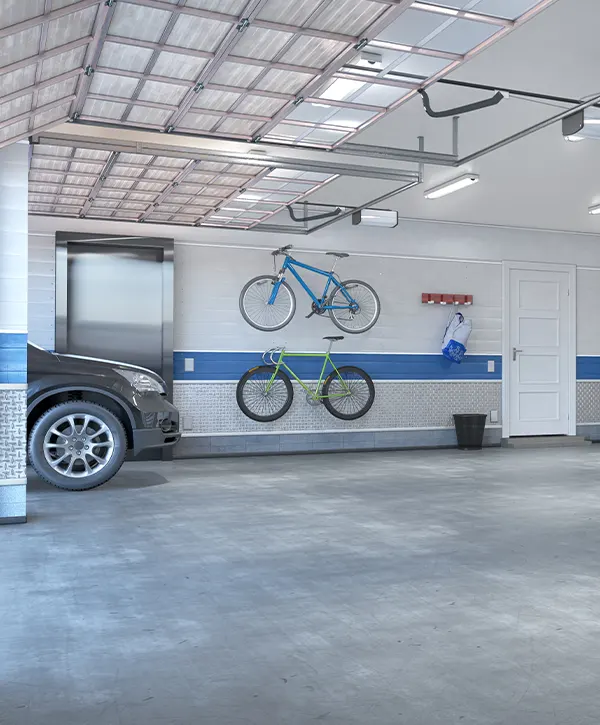 Epoxy flooring is an ideal choice for areas that experience a lot of foot traffic and require a durable, strong, and easy-to-maintain flooring option. It is suitable for use in homes, businesses, and factories and is available in many colors and designs to match your style. Epoxy flooring provides the opportunity to personalize your space with a design of your choice.
Orange Door Custom Coatings specializes in designing custom epoxy flooring that is durable and of high quality. Our team boasts over 100 years of combined experience in the industry, guaranteeing that your flooring will exceed industry standards. You can rely on us to create beautiful and long-lasting flooring for your home that will make a lasting impression.
In Phoenix, AZ, there are other contractors you can rely on for epoxy flooring installation besides us. To provide you with information about our fellow contractors, we have compiled a brief list of the best companies in the area.
Starting With Orange Door Custom Coatings
We are certified professionals with extensive experience and knowledge in providing top-quality results for epoxy flooring projects in Phoenix. Our successful completion of over 100 projects demonstrates our expertise. Don't take risks with amateurs, trust us with your project today!
When you choose our services, you can expect high-quality work and personalized methods tailored to your specific needs. We take the time to understand what you want and help you achieve your goals by suggesting the most effective solutions.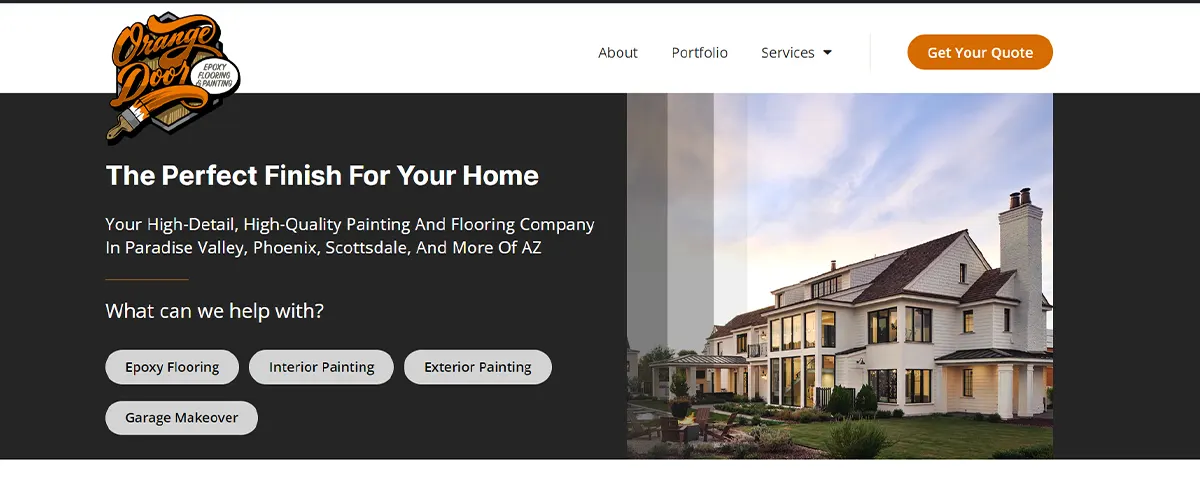 We hired Dustin to come out and epoxy our floors. The workmanship was amazing and the customer service is wonderful.
Dustin and Justin were astounding to work with.
If you need garage floors with epoxy or your house painted this is your company!
Dustin and his team went above and beyond for me. I needed my concrete patio refinished on a tight deadline and they got the job done for a fair price.
It looks great now and the team was friendly and professional.
Would highly recommended – all around great experience with this company.
Epoxy Werx - Epoxy Garage Floors
Epoxy Werx provides epoxy installation services that are visually appealing and durable thanks to their advanced technology. The exclusive epoxy sealant they use is resistant to various kinds of damage such as scratches, stains, and water damage. They aim to offer top-quality services at an affordable price.
This contractor offers various color and texture options to enhance the appearance of your garage to look like a showroom. They also offer free custom designs for those who want something unique. They are one of the top contractors in the area, and their prices are reasonable.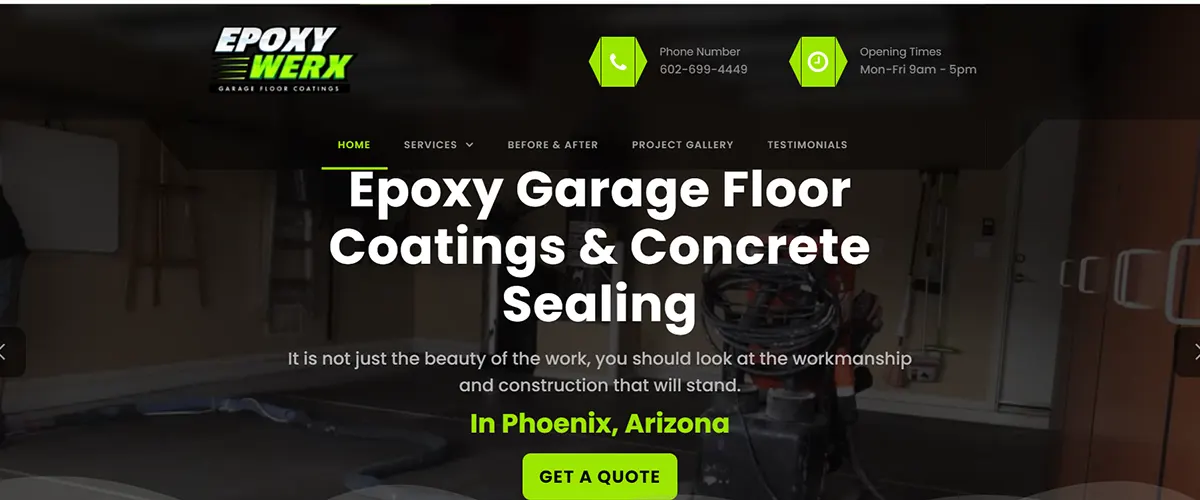 They did an amazing job! First time ever getting epoxy on my garage floor and they made the process super simple. Showed him what my wife and I wanted and we got exactly that! He was able to put us in there schedule super quickly and the process was very quick! Would highly recommend they do a spectacular job very professional! Super happy with the results glad we picked you guys thanks.
Epoxy Werx (Sheldon & Cara) did a beautiful job on our garage floor. We are so happy with the results. They were so easy to work with especially since we mostly live out of state and communicated by text and the Ring camera during the install. When we saw the results in person, we were wowed. Now our neighbors want theirs done.
Brilliant Epoxy Flooring Inc
Brilliant Epoxy is an Arizona-based company providing concrete restoration and coating services to both commercial and residential settings across different areas. They use high-quality epoxy-based resins and urethane sealants to restore existing concrete surfaces and create high-performance floor systems.
Over the past 25 years, they have established themselves as trustworthy advisors and skilled installers of resinous floor coating systems by utilizing a consultative approach, premium materials, and equipment, employing expertly-trained technicians, and is dedicated to providing exceptional service.
Their approach to flooring combines art and science, and their goal is to assist you in discovering the ideal flooring solution that is both aesthetically pleasing and functional. They aim to surpass your expectations in terms of both quality and service.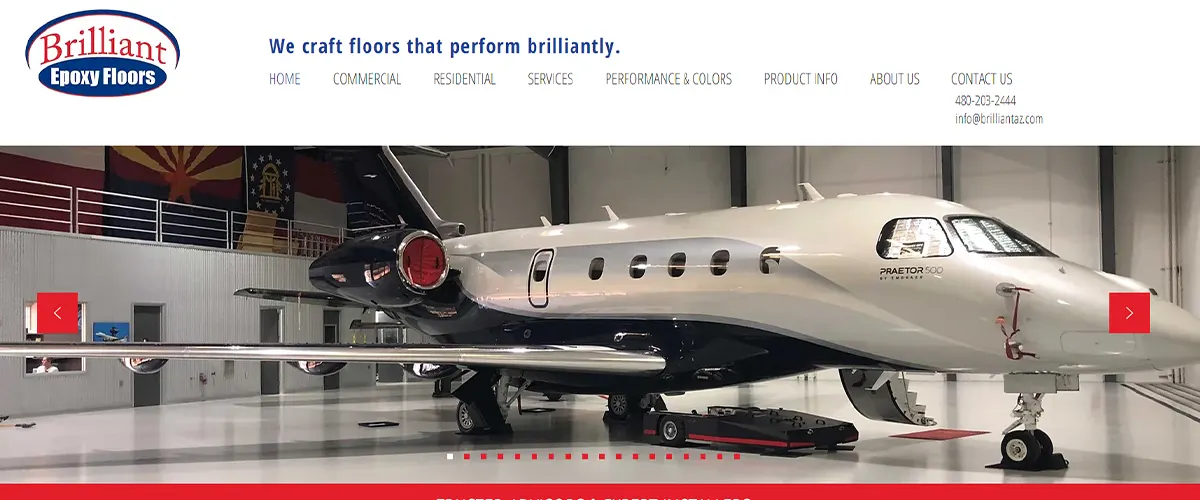 So I called and received a rough estimate online per square foot. Went to the show room over by Scottsdale Airport and picked out the color we wanted. So this is how they work it they show up at the job site in the morning give you the final measurements and give you the cost of the job. 
We didn't pay anything until they finished. They do take credit cards, but they charge a little extra so we ended up paying with a check. We were very happy with the whole process and very happy with the finished product. We would use them again.
Great experience from start to finish. Erik is very knowledgeable and was able to answer all of our questions to help us make the right decision for our event space floor. 
Dan and his install team did an incredible job and were very meticulous with their work. The whole team at Brilliant Epoxy was very respectful and pleasant to work with. I highly recommend them. Great job!
Get A Superior Service From One Of The Best Epoxy Flooring Companies In Phoenix
Orange Doors Custom Coatings offers epoxy flooring installation services to give your space a complete makeover. Our professional team will handle the entire installation process to ensure your satisfaction.
We are committed to making sure you are happy with the interior design experience. We recognize the significance of having an aesthetically pleasing environment and aim to assist you in revealing and improving your space's beauty. Get in touch with us now to turn your home or business into an outstanding space that you will adore!
With us, you're getting:
Your Epoxy Floors Are Closer Than You Think!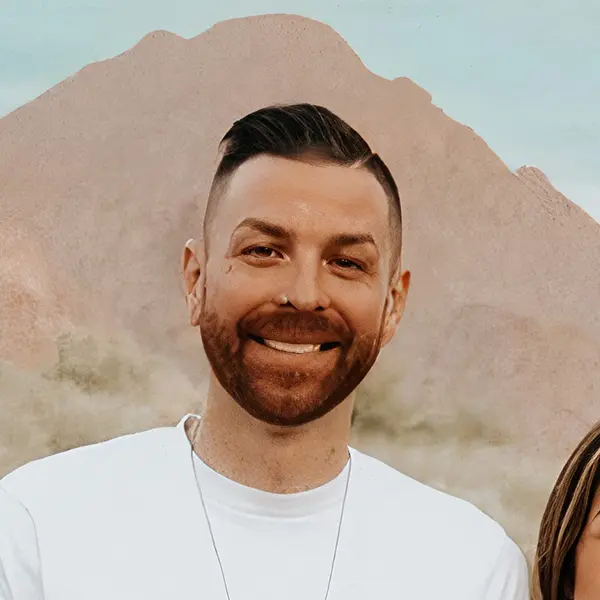 If you're ready to get started on your project, we're here for you!
Request a free quote and let's discuss your upcoming epoxy flooring project! Or talk directly with me at (602) 625-4617 and see if we're the right fit!