The Best Cabinet Painting In Phoenix, AZ
Want to give your cabinets a brand-new look? You know what to do!
Are you looking for a high-quality cabinet painting service in Phoenix, AZ? Choose Orange Door for a superior refinish that will make your cabinets look brand new – without bringing any stress to your life!
We have extensive experience in the painting industry and know that homeowners value high-quality craftsmanship in their homes, even if it comes at a couple of extra bucks.
Orange Door Custom Coatings may be the right choice for your project if you are looking for high-quality cabinet painting.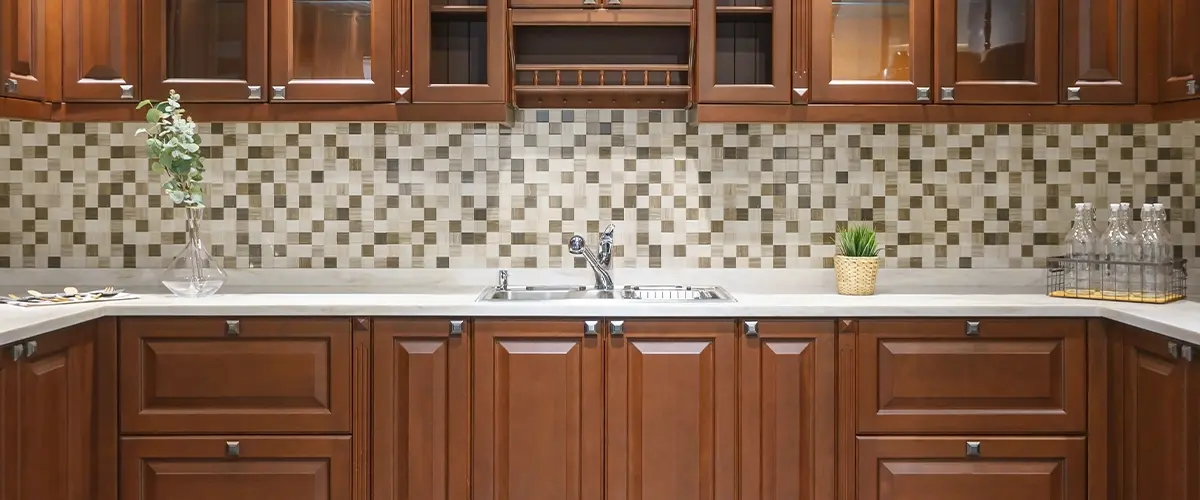 The Most Advantageous Cabinet Painting Perks
Why settle for a messy and unsatisfactory cabinet painting service when you can invest in the best cabinet painter in Phoenix, AZ? Our complete cabinet painting service will bring you joy and exceed your expectations!
With Orange Door Custom Coatings, you'll also get:
Enjoy Your Superior Cabinet Painting Service With Orange Door!
Repainting your cabinets promises a high return on investment and a smooth process without any setbacks, especially when working with a professional who knows this trade inside out.
With us, you'll go through a process designed for your comfort and well-being. We try to minimize the stress and anxieties that home improvement projects usually bring, and we're happy to say that we've so far succeeded.
Orange Door Custom Coatings is committed to offering top-notch service through our team of skilled painters. We strive to guarantee that your cabinets look brand new with every project. Our prompt method is tailored to provide you with comfort throughout the process.
Check out our cabinet painting offer in Phoenix, AZ, and enjoy a long-lasting investment with a top-tier cabinet painter!
Phoenix Homeowners Love Their Freshly Painted Cabinets!
Our cabinet painting service in Phoenix is known for being one of the best. Our satisfied customers in the area can attest to that. Here are some testimonials from your neighbors about their experience with Orange Door's cabinet painting service.
We hired Dustin to come out and epoxy our floors. The workmanship was amazing and the customer service is wonderful.
Dustin and Justin were astounding to work with.
If you need garage floors with epoxy or your house painted this is your company!
Dustin and his team went above and beyond for me. I needed my concrete patio refinished on a tight deadline and they got the job done for a fair price.
It looks great now and the team was friendly and professional.
Would highly recommended – all around great experience with this company.
Paint Based On Cabinets Material
Selecting the right paint for your cabinets can be challenging as it may impact the aesthetics of your space and potentially harm your project. At Orange Door Custom Coatings, we can provide useful advice and recommendations on the ideal paint for your cabinets. We're excited to assist you with your cabinet painting project. Let's get started!
For a better bond and smoother finish, it's recommended to sand the surface first. This step is particularly crucial if the cabinets already have a glossy finish or are stained, as the top layer should be removed using sandpaper or a liquid deglosser. True wood cabinets are an excellent choice for painting due to this.
Sanding may be unnecessary if the cabinets are made of natural wood. However, water-based latex paint may require a lot of paint due to absorption. It is advised to use a primer for even and complete coverage.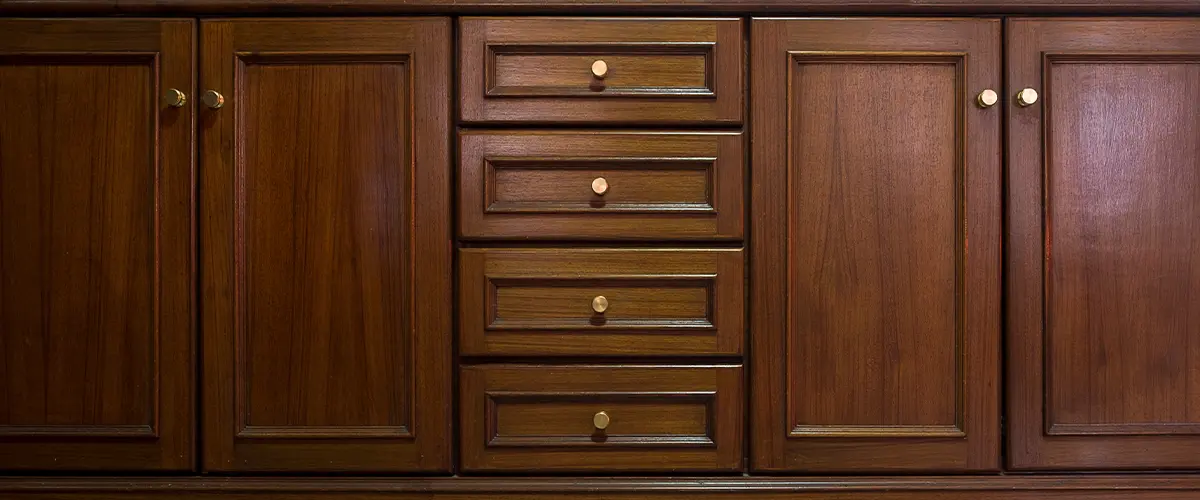 To properly prepare for painting your kitchen cabinets, you should sand the thin layer of real hardwood over the pressed material called wood veneer.
Make sure to inspect the veneer for any damages like cracks, chips, or loose edges, and use wood glue to fix them. It's important to only roughen the surface with sanding enough to ensure proper primer and paint adhesion.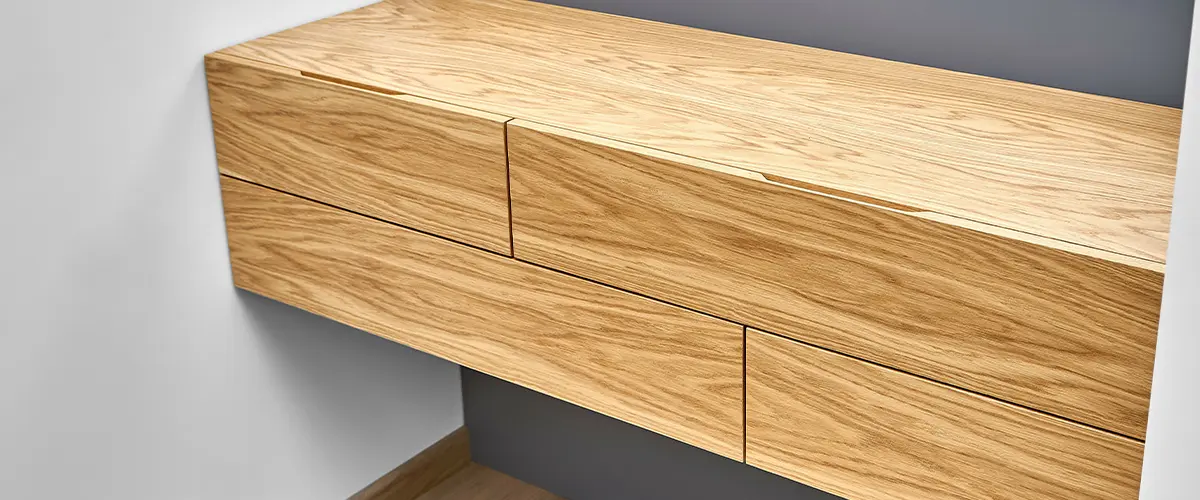 Proper preparation techniques make painting MDF kitchen cabinets easy. To prep MDF cabinets for painting, focus on sealing the edges and using an oil-based primer.
To avoid surface swelling caused by moisture in water-based primers, it's best to seal the porous edge of MDF with drywall compound before painting. Start with an oil-based primer for the first coat, then switch to water-based latex paint for the rest without fear of moisture absorption.
Best Finish For Kitchen Cabinets
It's important to choose the right paint finish for your kitchen cabinets to ensure their long-term durability. Cabinets, including kitchen cabinets, can easily get scratched or chipped, but selecting the proper paint finish can help reduce potential damage.
Using semi-gloss paint on your kitchen cabinets is a smart choice. The shiny surface reflects light, making it durable in the kitchen and adding brightness to the space. Additionally, it's effortless to clean and scrub without causing any damage.
Satin has a finish that is similar to semi-gloss, but it reflects less light from windows and lamps because it has less sheen.
If you want bold or modern kitchen cabinet colors, gloss paint is a great choice. It has a shiny finish and is highly durable due to the higher amount of resin and binders it contains, giving it a hard shell-like coating.
To ensure easy cleaning of your kitchen cabinets, it is recommended to avoid using eggshell or flat finish paint. These finishes are less washable compared to semi-gloss or gloss finishes, and excessive scrubbing during cleaning could result in a worn-out appearance.
Cabinet Painting Is Now Easier, Quicker, And More Efficient!
We have streamlined the start of home improvement projects to make them less daunting. We will also keep you informed with frequent updates throughout the project so you can oversee the progress.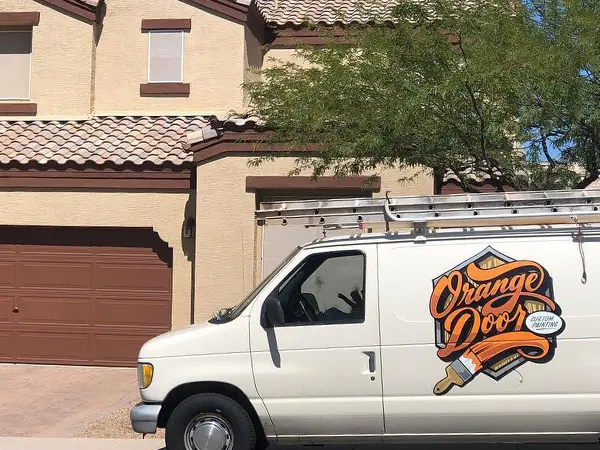 Request your free quote and let's talk!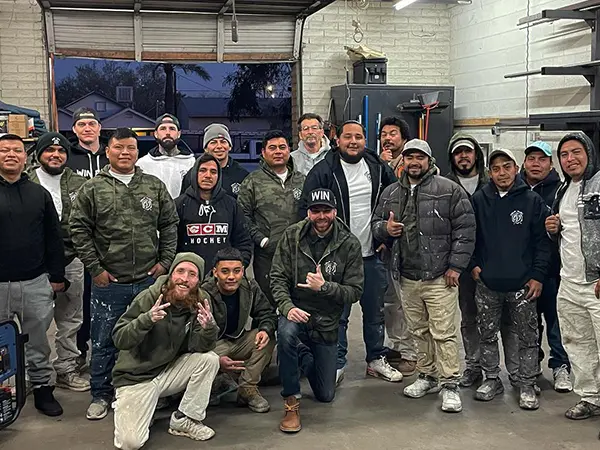 We start your project as soon as you're ready.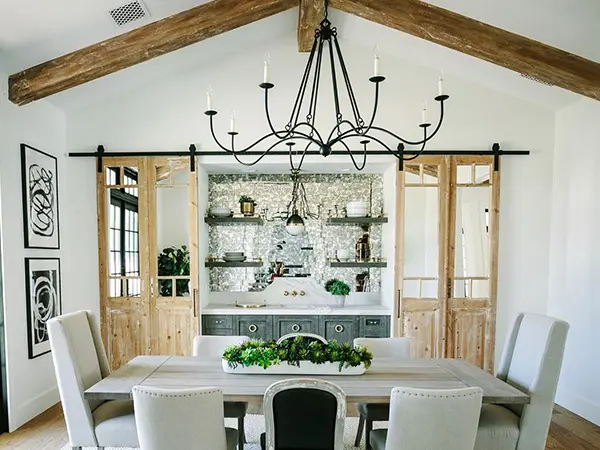 Enjoy your freshly painted cabinets.
Frequently Asked Questions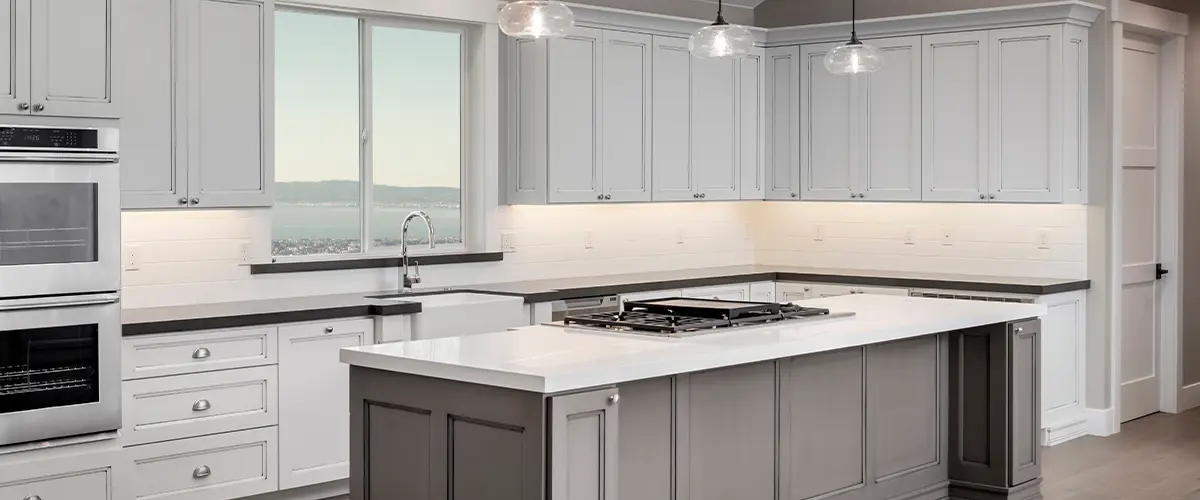 Make A Wise Investment With Cabinet Painting In Phoenix
Choosing a world-class cabinet painting service in Phoenix, AZ, would be great for your home. We believe we have convinced you to give it a try.
At Orange Door Custom Coatings, we prioritize your satisfaction, your home's safety, and the value of your investment in our services. We are a premier contractor that offers top-quality workmanship.
We are committed to ensuring your complete satisfaction with your new cabinets. In fact, we go above and beyond what other painters in Phoenix offer to ensure that you are completely happy with the final result.
Take Your Cabinets' looks To The next level with a quality painting service!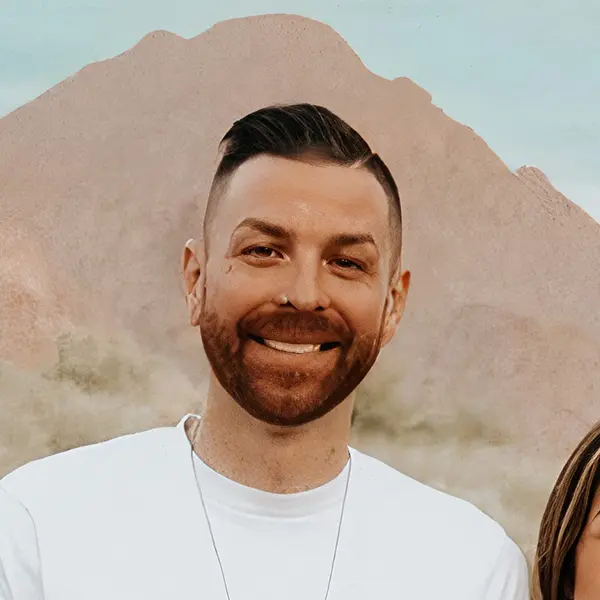 If you're ready to get started on your project, we're here for you! Request a free quote and let's discuss your upcoming cabinet painting project in Phoenix! Or talk directly with me at (602) 625-4617 and see if we're the right fit!