Are you ready to refresh and revamp your living space? 
This article will help give you the boost of inspiration needed to get started on creating a striking visual effect using the latest colors and trends.
Whether you're into bold and bright, neutral, or dark and moody shades – we've got plenty of ideas for any home aesthetic. Let's dive in to uncover the best painting ideas for your beloved living area.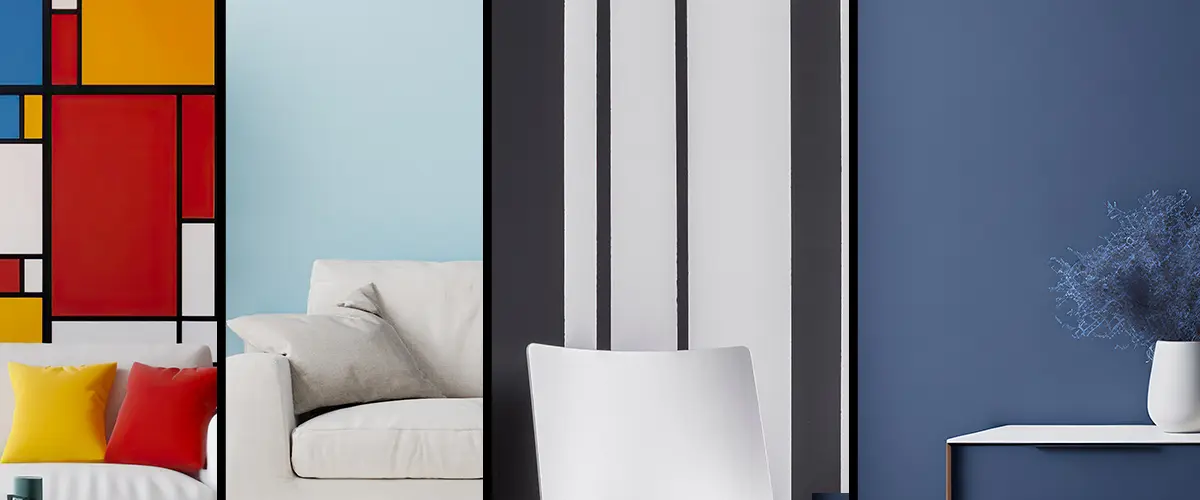 Bold and Creative Living Room Painting Ideas
Whether you want to paint an entire room or add a simple but stylish touch to an accent wall, here are some bold ideas to help you get started.
Adding bold blocks of color to your living room can instantly transform the space and create a vibrant and stylish atmosphere. Bold colors can help to make small spaces appear larger, add energy to your decor, and inject personality into any space.
By using a bright block of paint on one wall or accentuating features with an impactful color such as sunny yellow or deep red on furniture, adding bold colors will add the wow factor that you're looking for. A subtle yet decisive contrast between light shades throughout the room, softened by simple but striking details in a more intense hue, can bring balance to your living area while making it feel more inviting.
If replacing cream walls with white is too serious for you, break it up with sections of vivid teal tones, for example – this will give the whole room an entirely new lease of life.
The beauty about incorporating bold blocks of color into your interior design scheme is that there are endless possibilities – be daring with abstract shapes against bright hues or keep lighting in mind when matched well with strong pigments – either way creating depth and exposing playfulness amidst minimalistic style.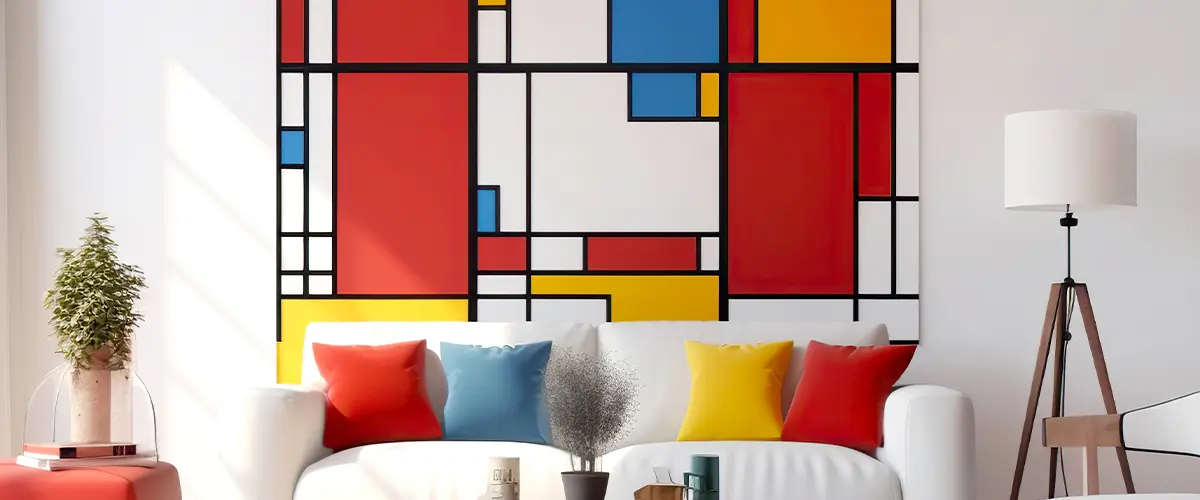 Try tonal stripes for a chic look
Tonal stripes in a living room can make all the difference. These timeless design elements offer visual interest, transforming spaces and giving them an elegant and chic look while creating the illusion of height.
Tonal stripes are achieved by using shades of the same color or contrasting colors to create subtle yet bold accent walls or furniture pieces like chairs and sofas for a cohesive and eye-catching look.
Whether you prefer classic traditional looks, modern contemporary styles, bright colors, or muted tones, tonal stripes can be tailored to fit any decorating scheme you have in mind for your living space.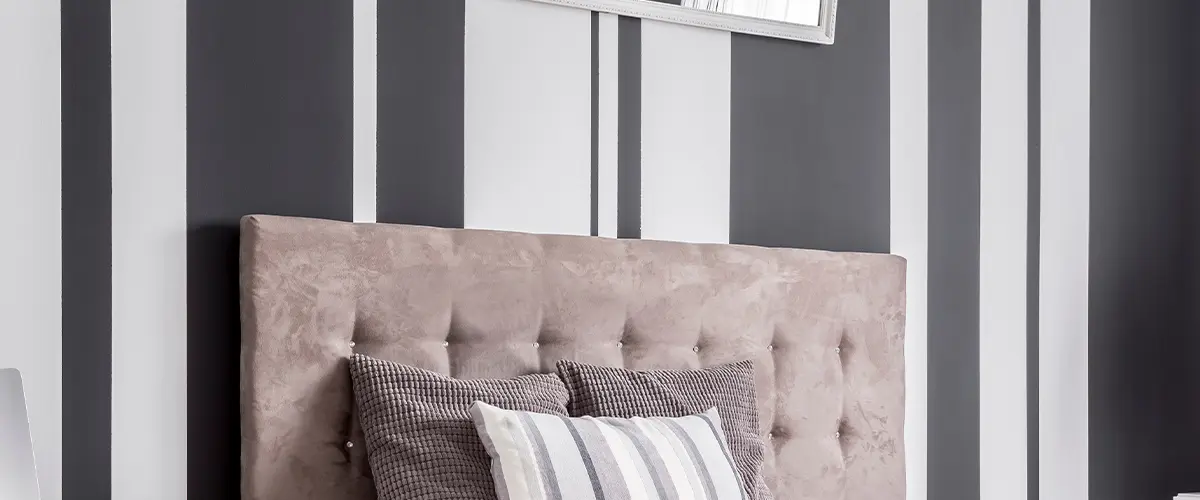 Opt for ombré-stripe walls
Ombré-stripe walls are a great way to add a bold, creative look to any living room. Instead of applying one color from top to bottom, ombre consists of smoothly transitioning two similar shades or colors together for an eye-catching yet subtle effect.
This can be achieved with painter's tape and two complementary paint colors, creating striking stripes anywhere from thick to thin, depending on your desired design. Ombre strips also provide visual texture and dimension, which can help make a space more inviting, creating interesting and calming depth.
These walls create an easy focal point by bringing attention towards them away from other design elements in the room – adding warmth while also soothing your eyes without feeling overwhelming if done correctly.
Use accent colors to highlight features
Accent colors can be used to break up bland walls and create bold focal points. Whether you're looking for a dramatic change or just a subtle hint of color, an accent wall is a perfect way to draw attention away from the existing decor.
Use bright colors like oranges and yellows to bring energy into the room, blues, and purples if you want to create a calm atmosphere, or use neutral shades like grays and tans to add texture.
Accent colors can also be used strategically throughout your living room — match them with pops of vibrant pillows or artwork, apply only two different shades in one area for contrast, and use brighter tones on ceiling beams or window frames for more visual impact — whatever suits your style. Popular choices include sunny yellow, vibrant pink, bright blue, plum purple, and deep green which all impart personality without sacrificing function.
Nature-Inspired Living Room Painting Ideas
Bring the outdoors inside and create an eco-friendly space with nature-inspired living room painting ideas. Read on to find out more.
Create a nature-inspired palette
Creating a nature-inspired palette in your living room doesn't have to be intimidating. Begin by layering natural elements, such as the colors of sea and sand, sky, and sunsets. Start with soft greens if you'd like to evoke calming forest floors or shades of blue for seaside getaways.
When combined together, they can give an inviting yet modern atmosphere to any space. To bring it all together, add warm earth tones like browns and taupes that are reminiscent of the soil beneath us.
Contrasting these with some bright white paint on the walls will create lightness and contrast while still keeping it grounded in its natural origins. Last but not least, pick out a few pieces of furniture from muted cream colors for maximum effect. All this results in a soothing ambiance that is sure to make your living room feel comfortable at any time of day or night.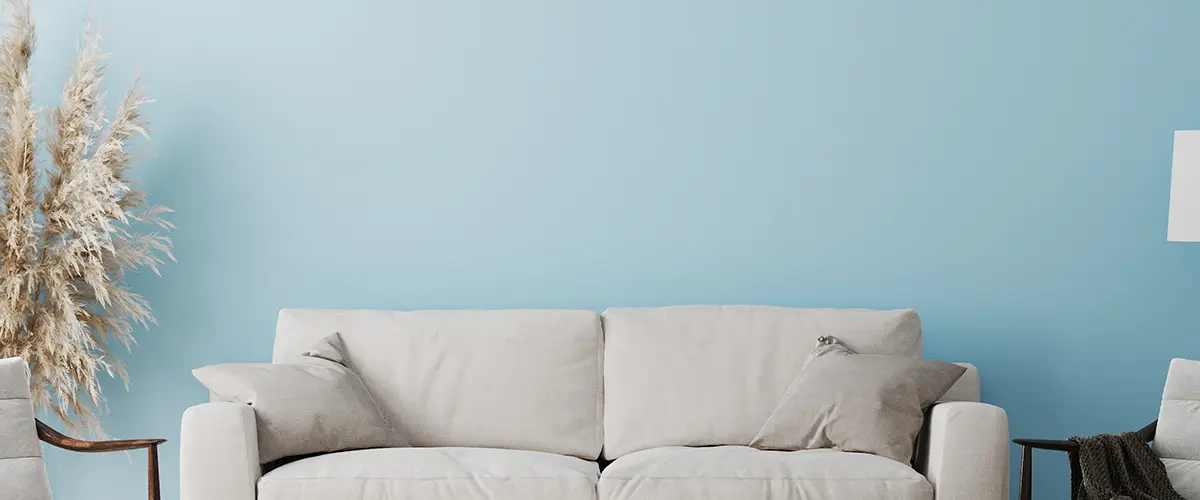 Whitewashing is a great way to give wooden surfaces in your living room an instant refresh. It's easy and cost-effective, with any type of white paint – such as latex, mineral paint, or acrylic – suitable for the job.
While whitewash looks fantastic with the Shabby Chic decorating style, it can also be used to create modern and retro vibes too. For example, you could have brilliant white paint highlight feature walls by painting bold diagonal blocks of color which can add subtle texture without incorporating a lot of extra design elements into the space.
Whitewashing brick will help your house bring out its natural textures while making rooms look fresh and on-trend – an affordable way to update your living area that won't require you to buy new furniture.
White living rooms can be a bright and airy option, making any space feel larger with heightened luminosity. White wholly selfless paint shade and makes your walls reflect light, so the more windows you have in your room, the brighter the white paint will make it look.
This basic neutral shade here isn't limited to modern aesthetics either; when paired with subtle soft shades of nature-inspired colors like foggy blues, muted sands, or dove grey and mossy greens, you create an effortless, serene atmosphere perfect for relaxing in.
Additionally, adding natural accents such as timber furniture pieces or rustic touches creates warmth throughout the living room without taking away from its simplicity.
Anchor an alcove with grey
Gray is incredibly versatile as a neutral color in living room paint ideas, allowing homeowners to create an array of sophisticated and stylish décor. Whether used on entire walls or as accent pieces, gray adds dimension and depth that draws the eye through every space.
By adding gray tones to one wall or the alcove of a living room, visual interest can be added without compromising simplicity. The muted hue helps draw attention toward decorated features within an area while also providing contrast against lighter shades.
Gray can often provide a modern look when combined with vibrant colors and textures or other warm neutrals like white or cream for more traditional-styled design schemes. Stylish yet subtle, using gray to anchor an alcove section of your living room will add drama without overpowering your space – additional lighting effects can enhance its bold effect even further.
Unique and Artistic Living Room Painting Ideas
For a truly special effect, incorporate unique and artistic living room painting ideas such as abstract black and white, painting a feature wall with bright hues, creating an artistic watercolor finish, or balancing darker colors in the space.
Be bold with abstract black and white
Abstract black and white art is a popular choice for living room painting ideas, creating a dramatic contrast from natural surroundings. A stylish mix of bold and geometric designs turns any space into an artistic expression with the bonus of being easy to achieve in most cases.
As an inexpensive DIY job, homeowners can sample abstract artwork on sections of their wall using paint to test a style that works for them. The impact of adding colored accents through furniture and accessories can be heightened by painting walls with different shades – dark against light – which will provide greater visual depth in the room overall.
For those wanting to make more subtle changes, painting one feature wall in alternating black and white stripes creates an optical illusion without overpowering the room or its contents.
A feature wall – often the backdrop to your entertainment or dining area – is a great opportunity to bring an interior space to life. Painting this focal point with bold blocks of color, tonal stripes, ombré-stripe walls, or bright accent colors can give the living room a refreshing update and statement look.
The possibilities are endless when it comes to creating an original atmosphere in this key area of the home. Plus, painting one wall with some sort of pattern will draw attention away from any non-desirable elements and liven up photo frames, artworks, and other decorations on display.
Homeowners looking for a modern statement should try out designs such as diagonal blocks behind their TV area or spruce up plain shelving units by installing swathes of white against bright blues; these arrangements work best with plenty of natural light in the room also.
If you're looking for something more subtle yet equally stylish, incorporate understated shades like taupe or warm pink into your design scheme – either painted on just one wall or across all four corners, depending on what works best for you personally.
Create an artistic watercolor finish
For those looking to add a unique and creative element to their living room, try creating an artistic watercolor finish. Watercolor painting is a budget-friendly form of art with numerous simple ideas available for beginners or experienced artists.
This expressive art form allows the artist to explore ideas and emotions easily – while also providing stunning visual effects. The process of creating an artistic watercolor finish requires a few essential materials: lightfast, non-toxic paint colors, synthetic or natural hair brushes, cold press paper designed for painting inks and paints, plus traditional masking tape.
Start by sketching the desired design onto the paper using pencils or drawing pens – you can use stencils too. Line up your design over where you want it on the wall before adding any paint color, as it's easier when applying base coats rather than hand blending layers later on.
Then choose high-quality, water-resistant pigments such as Daniel Smith Extra Fine Watercolors (or other similar brands) which are professional-grade products that produce amazing depth and vibrancy while being easy to blend together during application.
Use bright blues against warm pinks/peach tones with bold whites for enhanced highlights; begin by lightly 'floating' color from the center outwards whilst increasing saturation at the wall's edge as desired.
Dark colors can feel overwhelming, but when used strategically, they can bring drama and distinction to a living room design. To create a balanced and visually pleasing living space, it is important to consider the scale of the room as well as the amount of light it receives naturally.
Darker shades should be confined to one section or feature wall and then contrasted with lighter hues on furniture such as rugs or soft furnishings. Accents like lamps, artwork, or window frames in dark hues will also help ground the color palette if other elements are in lighter tones.
For walls, use small amounts of darker paint finishes for pops of contrast that don't overpower against white backgrounds or brightened with reflective materials such as glass surfaces or metallic fixtures and fittings.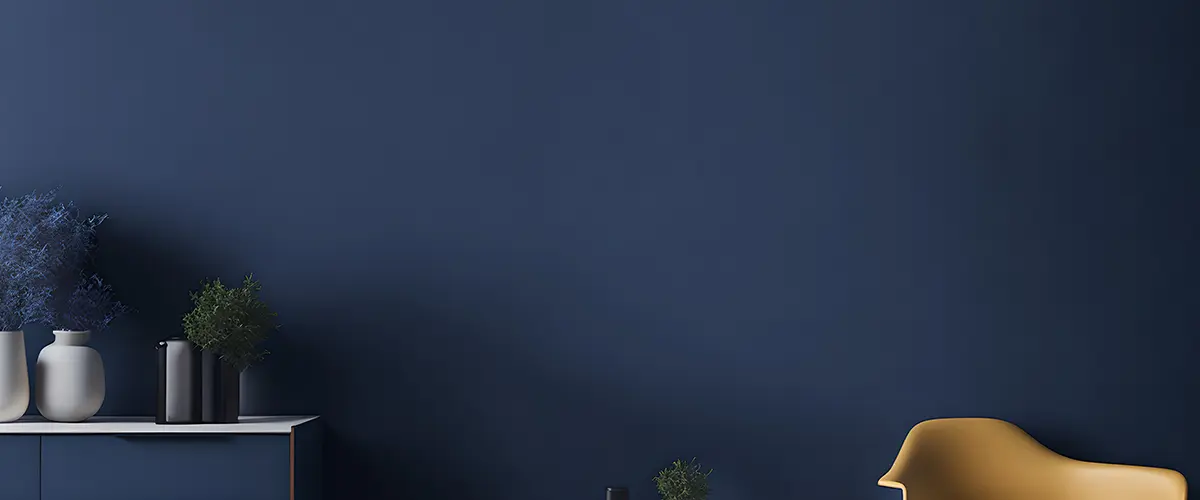 Living room paint colors can dramatically change the atmosphere of a space, allowing for breathtaking visual effects. From bold and creative ideas to natural-inspired palettes and artful techniques, there is no shortage of options when it comes to painting your living room walls.
At Orange Door, we can make your living room look just like you want it to. We provide interior painting services using the best paints around and you have a generous selection of colors and shades to choose from. 
You can fill out our quick form or alternatively you can call us at (602) 625-4617 and staert the process of making your living room stand out.