The Best Cabinet Painting In Glendale, AZ
Want to give your cabinets a brand-new look? You know what to do!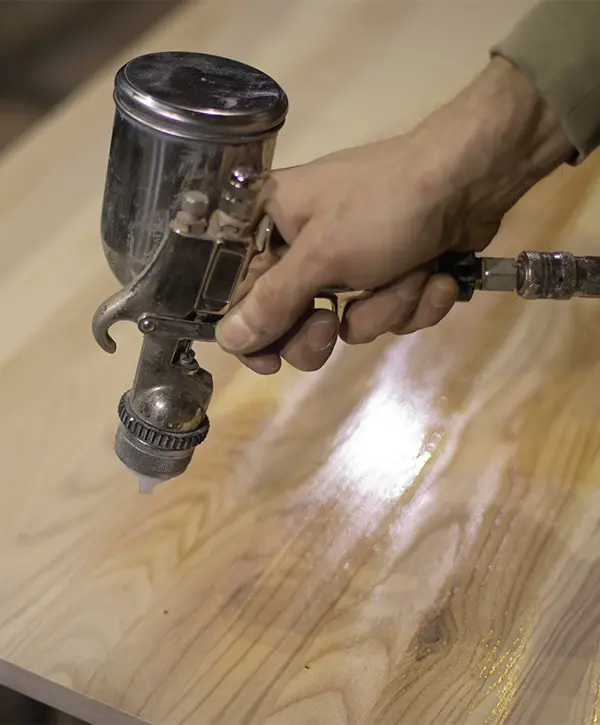 If you want a top-notch cabinet painting service that brings with it none of the stress and hassle associated with home improvement projects, choosing a professional is probably the best choice you'll make.
Here at Orange Door, our cabinet refinishing service ensures your cabinets will turn out great and you'll enjoy the highest return on investment possible!
The cabinet painting cost in Glendale, AZ, is around $100 per drawer face and $175 per cabinet door. Considering you're looking to paint all kitchen cabinets in a medium-sized kitchen, the total cost would be around $5,000.
Let's dive deeper into the art or cabinet painting!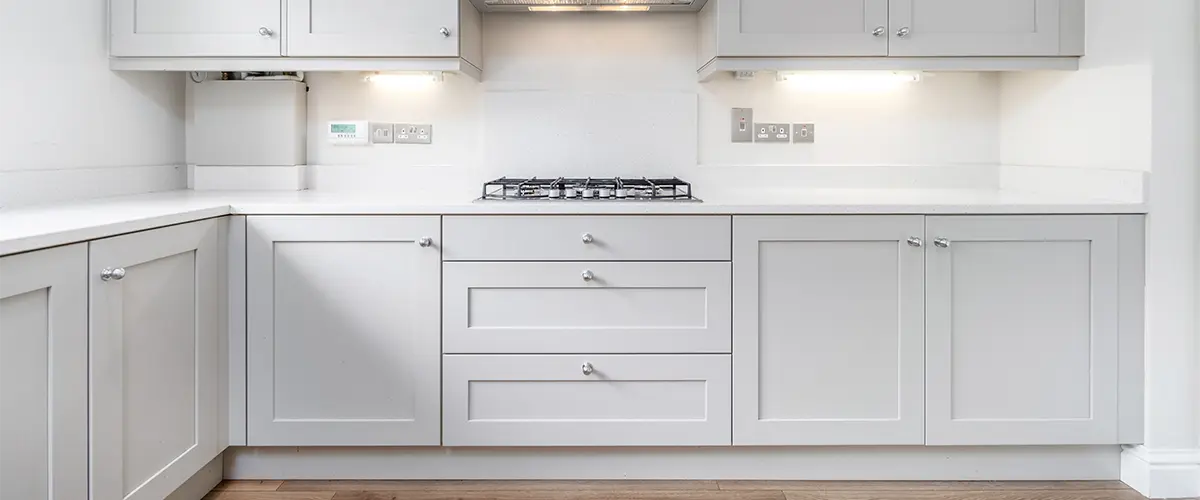 We Bring Perks No Other Contractor Offers!
Why should you settle for a subpar cabinet painting service when you can hire the top cabinet painter in Glendale, AZ? Our comprehensive cabinet painting service will not only meet but surpass your expectations and bring you satisfaction!
With Orange Door Custom Coatings, you'll also get:
Take Advantage Of A World-Class Cabinet Painting Service!
Working with an experienced painter on your cabinet painting project ensures a smooth process without setbacks and the highest return on investment possible.
At Orange Door, our process prioritizes your comfort and well-being. We aim to reduce the stress and anxiety often associated with home improvement projects and are proud to have been more than successful thus far.
You'll enjoy a team of skilled painters, all dedicated to offering you a high quality service that keeps you in full control of the job. We take pride in our craftsmanship because we know that by the end of our work, you'll enjoy cabinets that look like they're just out of the box!
Check out our cabinet painting offer in Glendale, AZ, and enjoy a long-lasting investment with a top-tier cabinet painter!
Cabinet Painting Cost In Glendale, AZ
Here's a quick pricing guideline for one of our projects in Arizona. Remember that this is just a guideline and your problem is unique, so some things might differ.
Before
After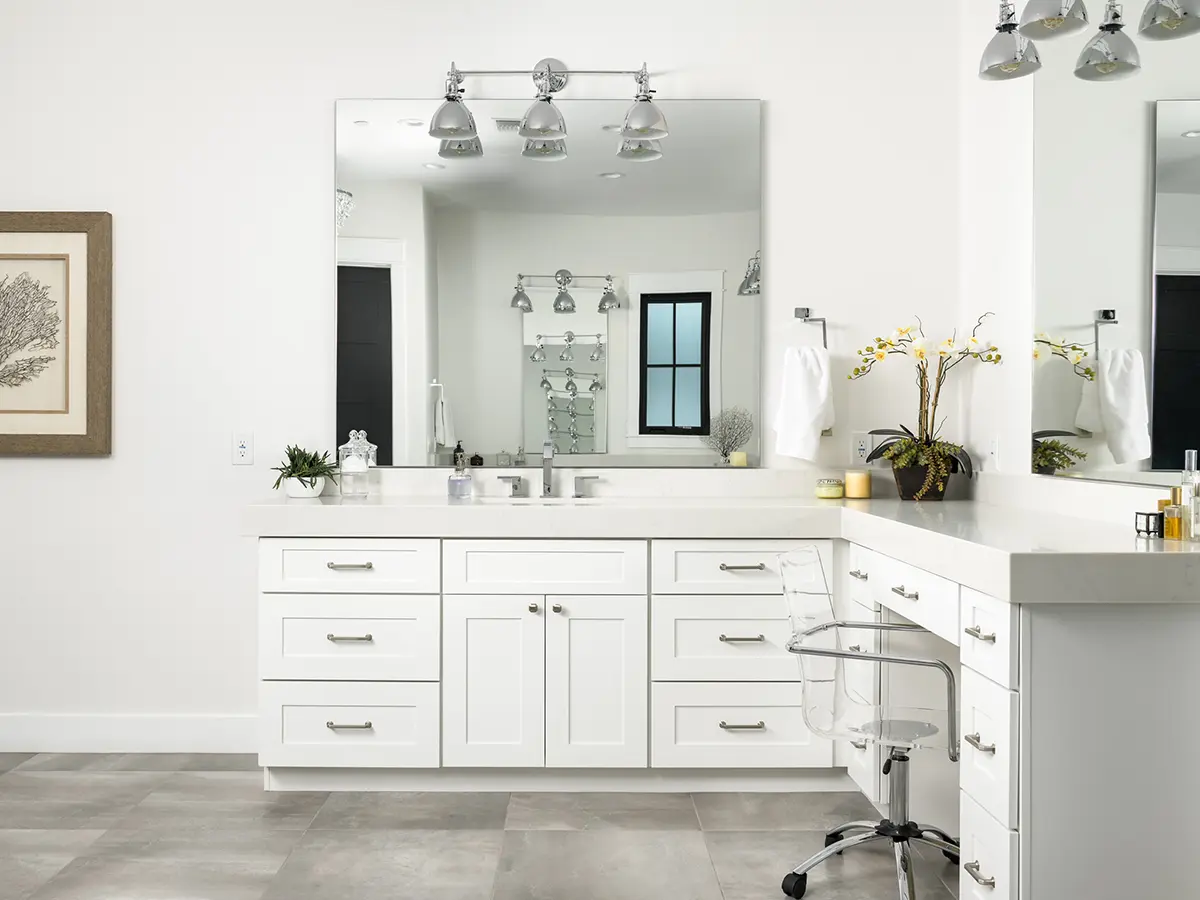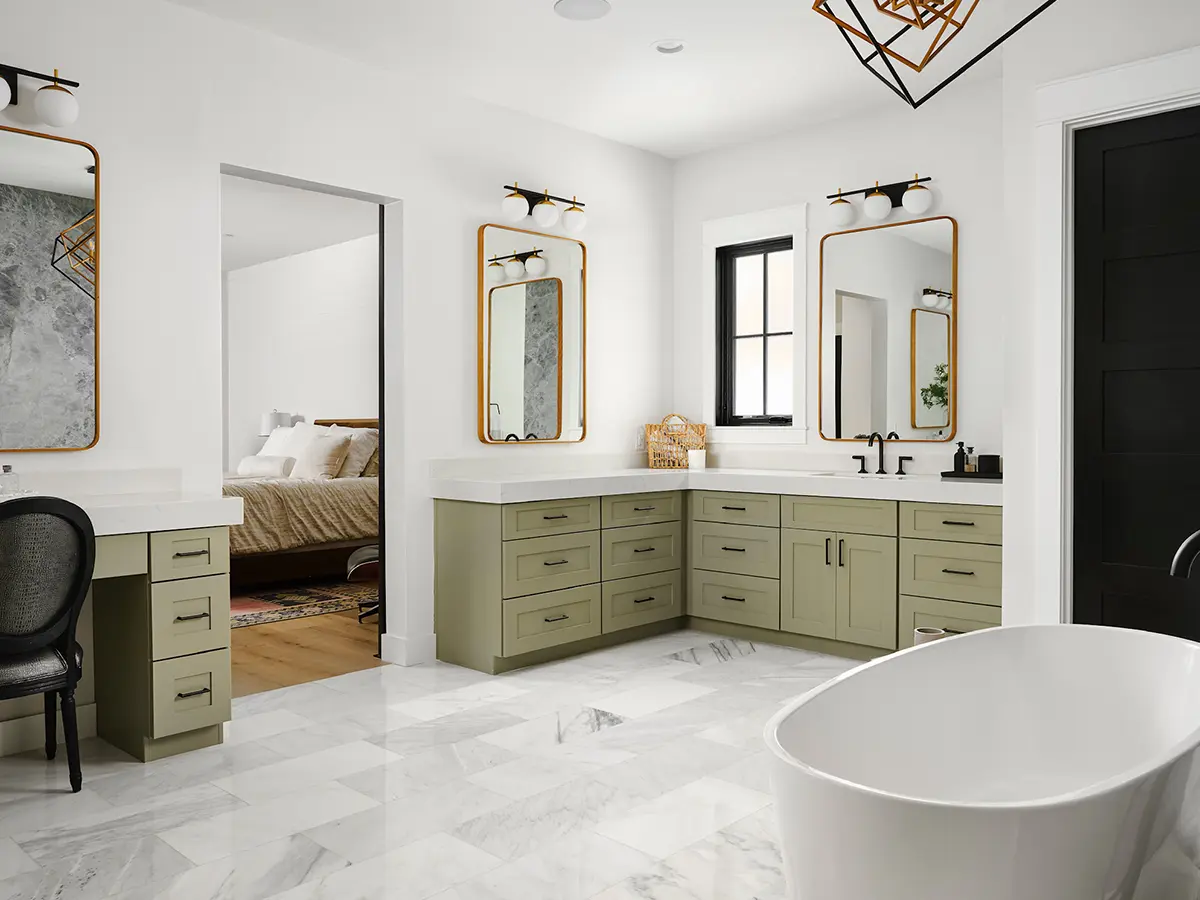 Master Bathroom And Cabinet Painting In AZ
For this 150 ft² interior painting project, we included:
The total quote for the project amounted to $2,986, with the highest-cost component being the cabinet refinishing.
Glendale Homeowners Love Their Freshly Painted Cabinets!
Check out some testimonials from your neighbors about their experience with Orange Door's cabinet painting service. Get ready to work with a professional painter that'll get you the best end product you can get!
Have used orange door painting probably a half a dozen times over the past 3 years. Started with them doing some basic touch up painting and drywall repair inside my home. Then we hired them to paint the entire exterior of our 4000 sq ft home. Then again on more interior projects. They are always on time. They do fabulous work and I will continue to use them in the future.
Dustin, his brother and his team were wonderful! We wanted to have our entire home painted, in a very short period of time (less than two weeks) while we were out of the country – and his team pulled it off!!
They advised us well, did as many walk-thru's as needed, were always free for text/calls and questions and helped completely transform our home! Highly recommend!! Also, best part, you get quality work for a reasonable price 🙂
Paint Based On Cabinets Material
Choosing the appropriate paint for your cabinets can be difficult. At Orange Door Custom Coatings, we're here to give you practical guidance and suggestions on the perfect paint for your cabinets, so you can make the most out of this upgrade. Let's look at some popular options.
To achieve a better bond and smoother finish, it's important to sand the wooden surface before painting. This is especially important for cabinets that are already glossy or stained, as the top layer needs to be removed using sandpaper or a liquid deglosser. Natural wood cabinets are great for painting because of this.
Wood takes stains much better than paint, but with a little extra work, we can still paint your wood cabinets to look nothing short of impressive!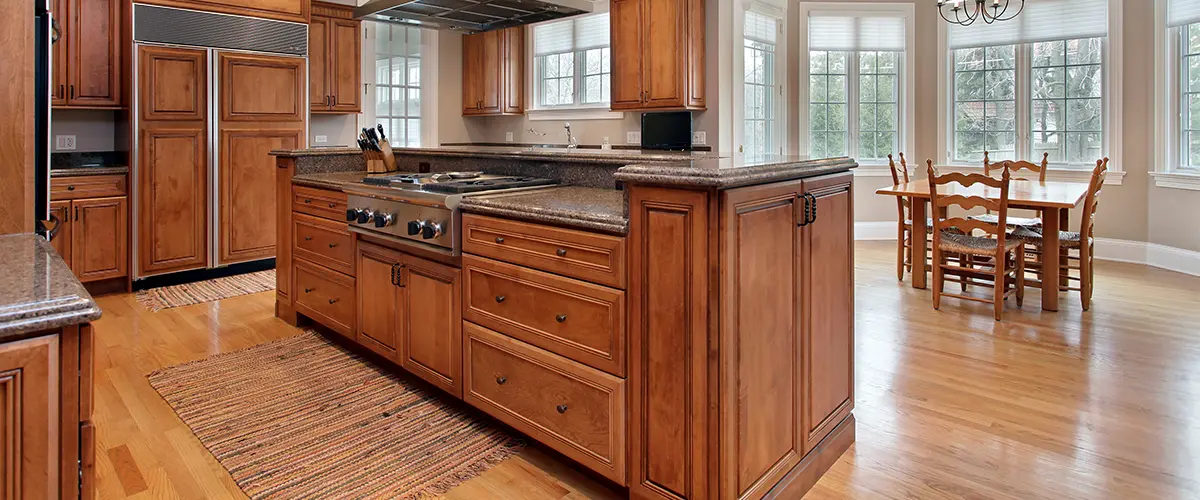 To properly prepare for painting your kitchen cabinets, you should sand the wood veneer, which is a thin layer of real hardwood, over the pressed material.
Make sure to carefully check the veneer for any cracks, chips, or loose edges, and use wood glue to make any necessary repairs. Avoid sanding the surface too much, and only roughen it enough to ensure good adhesion for the primer and paint.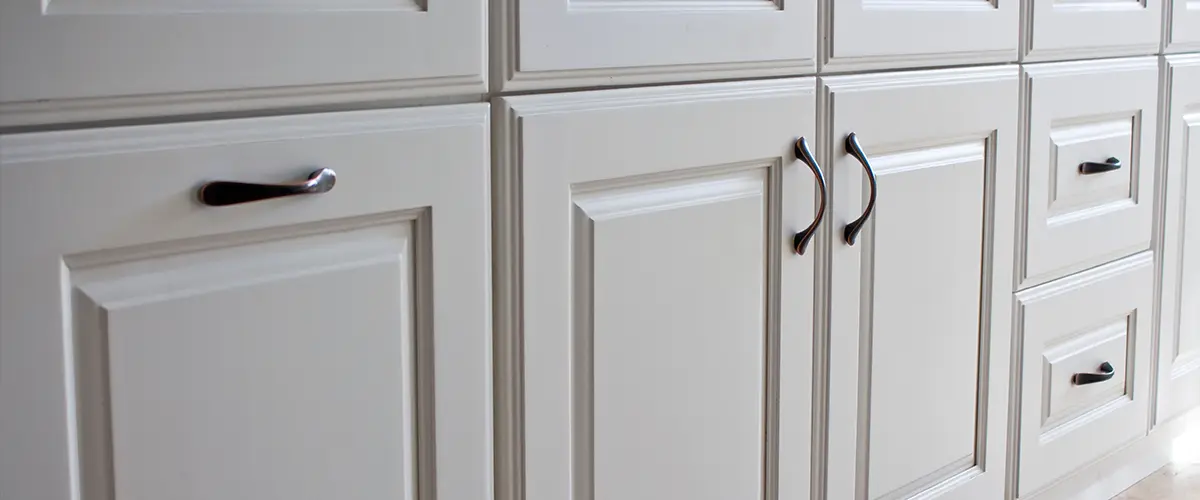 Out of all cabinets on the market, MDF cabinets take paint the best. Painting MDF cabinets is easy, fast, and efficient, and your final product will look mesmerizing!
For a better paint finish, it's recommended to apply drywall compound on the porous edge of MDF to prevent moisture from water-based primers that can cause surface swelling. Begin with an oil-based primer for the first layer and then switch to water-based latex paint for subsequent layers without worrying about moisture absorption.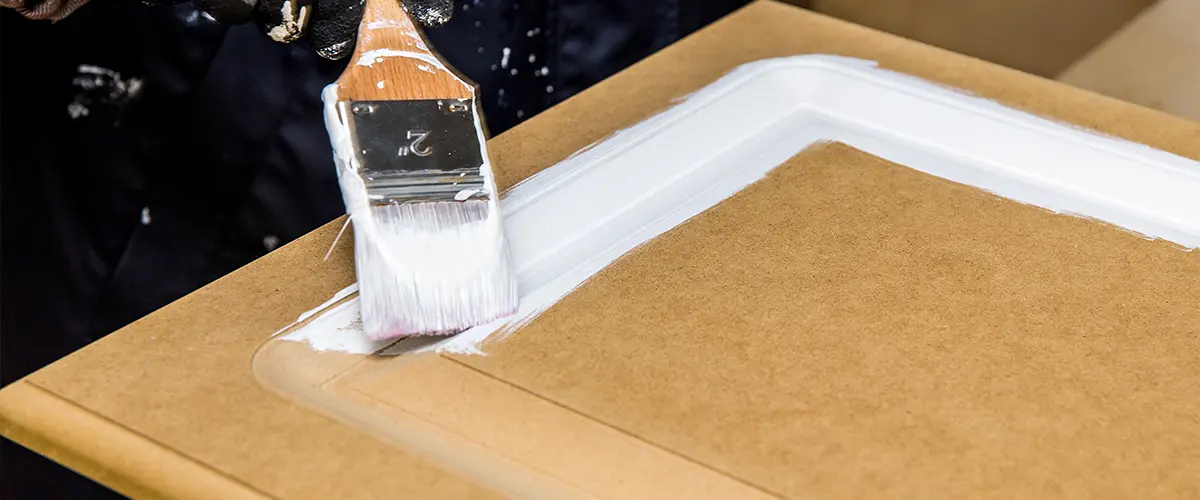 Best Finish For Kitchen Cabinets
It is important to choose the appropriate paint finish for your kitchen cabinets to ensure their longevity and durability. Kitchen cabinets, like any other cabinets, are prone to scratches and chips, but selecting the correct paint finish can minimize the risk of damage.
A good option for your kitchen cabinets would be to use semi-gloss paint. This type of paint has a shiny finish that reflects light, making it a durable and bright option for your kitchen. Additionally, it's easy to clean and scrub without causing any damage.
Satin has a finish that is comparable to semi-gloss, but it appears less shiny as it reflects less light from lamps and windows.
Gloss paint is an excellent option if you want bold or modern colors for your kitchen cabinets. It provides a shiny finish and is very durable because it contains a higher amount of resin and binders, resulting in a hard coating similar to a shell.
For hassle-free cleaning of your kitchen cabinets, it is advised that you steer clear of using eggshell or flat finish paint. These types of finishes are not as washable as semi-gloss or gloss finishes, and too much scrubbing during cleaning might cause them to wear out and look shabby.
It's Never Been Easier To Paint Your Cabinets With Pros!
We have made starting your cabinet painting project less intimidating and will provide you with regular updates during the project so that you can monitor the progress. Your needs, preferences, and well-being will all be accounted for, so you can truly enjoy the excitement of getting a kitchen upgrade!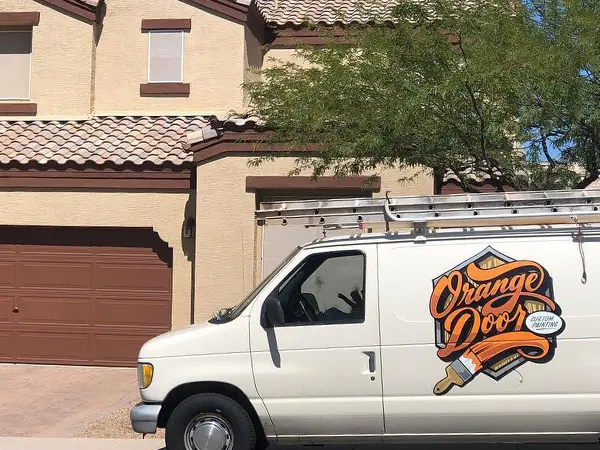 Request your free quote and let's talk!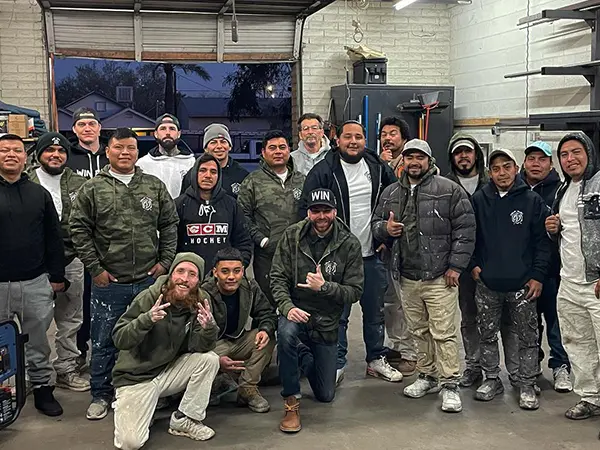 We start your project as soon as you're ready.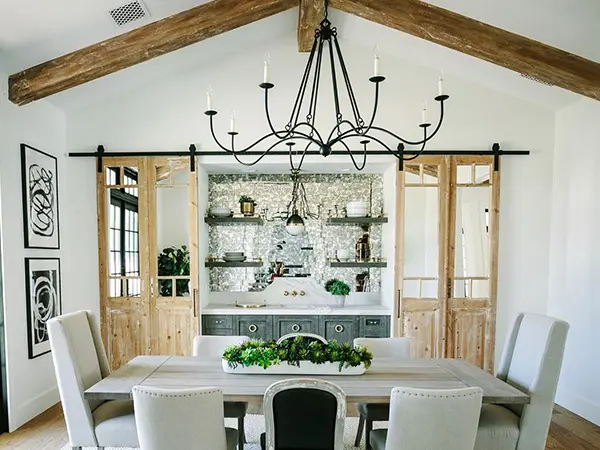 Enjoy your freshly painted cabinets.
Frequently Asked Questions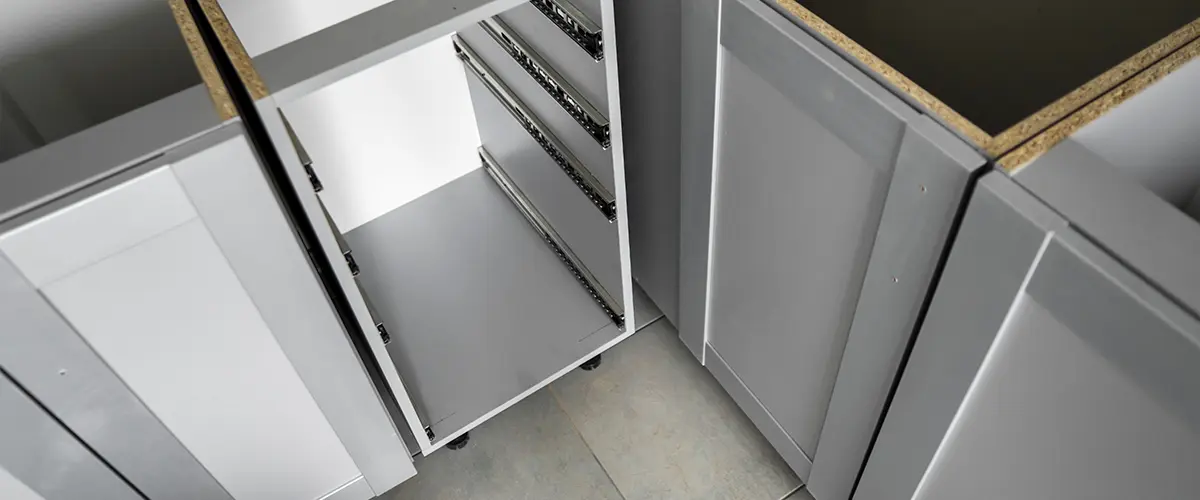 Make A Wise Investment With Cabinet Painting In Glendale
Choosing a world-class cabinet painting service in Glendale, AZ, would be great for your home, especially when it's priced so fairly.
Hire Orange Door Custom Coatings for your next painting project and ensure a high-quality product meant to elevate your entire kitchen so you can be proud of this room again!
Take advantage of a cabinet painting service that takes care of everything for you, while you sit back, relax, and enjoy watching your cabinets come back to their former glory!
Take Your Cabinets' looks To The next level with a quality painting service!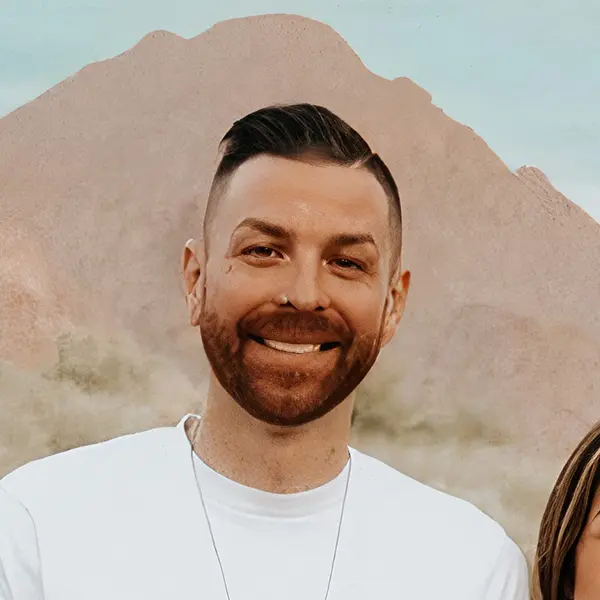 If you're ready to get started on your project, we're here for you! Request a free quote and let's discuss your upcoming cabinet painting project in Glendale! Or talk directly with me at (602) 625-4617 and see if we're the right fit!